Well serviced vehicles will cost you far less money in the long run, but it can be difficult to keep up with the service needs of your growing fleet. Many small businesses find themselves facing repair bills that seem to steadily get larger because their fleet isn't getting the breakdown preventing maintenance it needs.
If you are struggling with keeping up with fleet maintenance and repairs, you should be happy to know there is a simple solution. A fleet automation system can streamline your maintenance and service needs.
Automated Service Scheduling Takes The Guesswork Out Of Routine Maintenance
Do you feel like you are pouring money down the drain repairing your fleet vehicles constantly? Regular maintenance is proven to keep repair costs down, and our automated service scheduling can make sure all your vehicles are well oiled machines.

The system is customizable and you can set it to bring a vehicle up for maintenance based on a variety of factors including:
Time spent running
Mileage
Odometer reading
Dashboard critical alert status
Have different settings for different vehicles
Many other customizable settings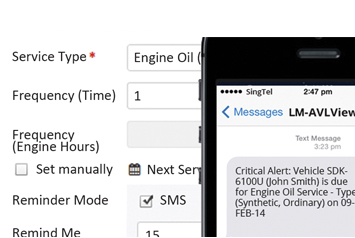 Service Alerts By Mobile, SMS or Email
Are you the type of person who is unlikely to regularly check your fleet automation software to see what vehicles are up for maintenance? Don't worry, you are far from alone. That's why we provide the option to have service alerts sent to you by phone, text, email, or any combination of the three. You can have them sent to multiple recipients, so your fleet manager, or whoever is in-charge of scheduling technicians to come service the vehicles, get the notification as well.
For more information on how Fleet Automation can take the hassle out of managing your vehicles, contact us today.