Track your vehicles live
Automate fleet operations, cut operational costs
Take the hassle of optimising any part of your logistics fleet management off your hands.
Monitor your vehicles live
Easy, automated and effective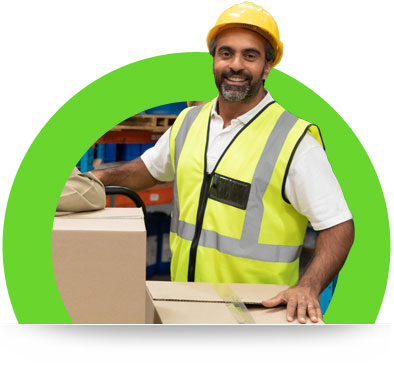 Benefits
There's never a shortage of work to do with your logistics fleet management. Unfortunately, it's not always easy to bring your attention to all the details of the fleet operations.
AVLView can help you better manage vehicles and drivers by monitoring your fleet operations every minute of every day.
Anyone with basic computer skills can use it.
Gives you a clear idea of the metrics to be monitored.
Helps you to calculate cost per km of the vehicles.
Help cross-check historical data for the past 12 months.
BETTER INSIGHTS, BETTER DECISIONS
Monitoring your vehicles with a GPS vehicle tracking system is only half the puzzle.
A fleet automation system like AVLView will tell you how to use that information to make changes that will affect the bottom line of your fleet operations.
Create custom Ad-Hoc reports based on your requirements.
Schedule reports to run daily, weekly or monthly and subscribe to it.
Receive a consolidated overnight daily offline report of vehicle activities.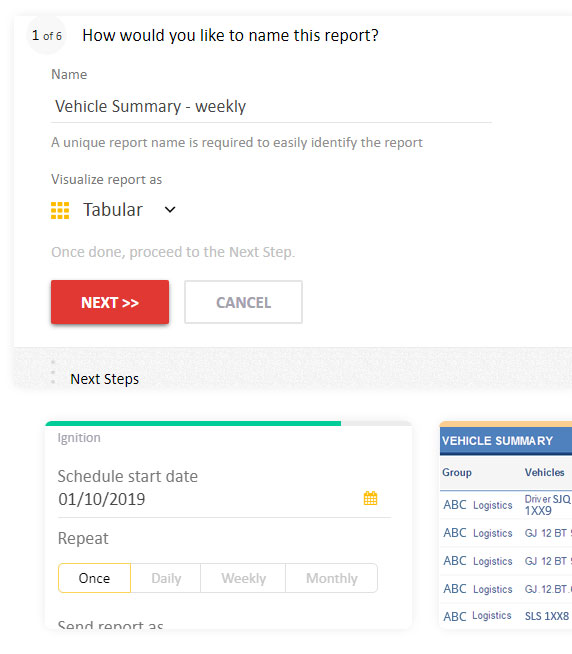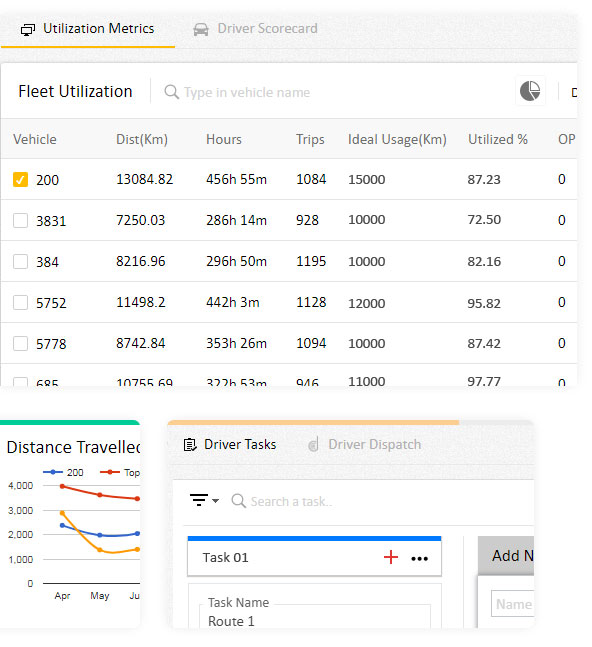 IMPROVE FLEET OPERATIONS, IMPROVE OUTCOMES
Are you just plain tired of dealing with your vehicles instead of focusing on the core strength of your business?
AVLView brings vital information right to you.
It helps you make decisions that keep your operations running as smooth as possible by improving levels of customer service which enhances overall productivity.
Peace of mind.
Increased vehicle utilization.
Easiness in job allocation, and routing.
EFFECTIVE MONITORING OF GOODS IN TRANSIT
Your customers want to know when they are going to receive their product.
If you have no idea what route vehicle moves or where their shipment is (in transit), it would be difficult for you to give an accurate delivery estimate.
Real-time updates on the status of the goods in transit.
Monitor and examine your current delivery routes.
Share vehicle location with your clients and let them make their shipment tracking live, so they don't need to call you again.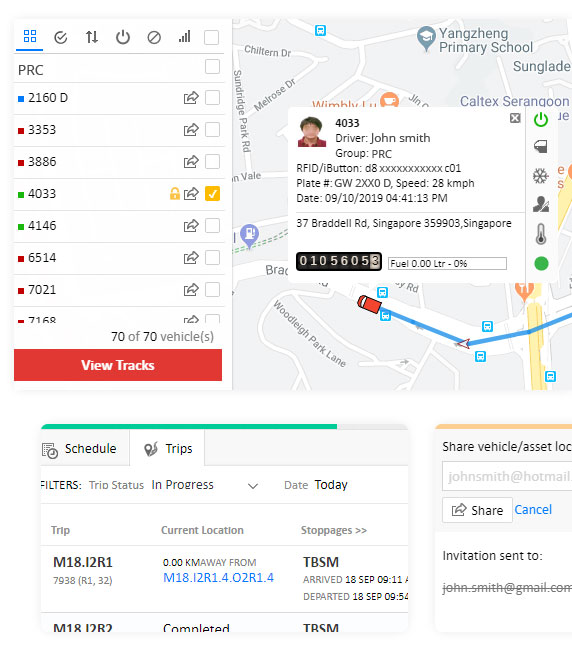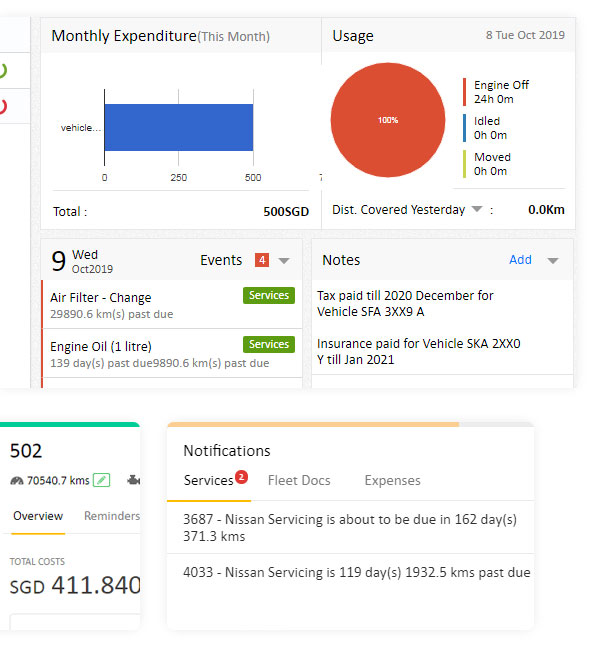 EASILY MANAGE VEHICLE SERVICE AND MAINTENANCE
You never have to face steadily increasing repair bills again as a result of your fleet isn't getting the breakdown preventing maintenance it needs.
AVLView system is customizable and you can set it to bring a vehicle up for maintenance based on:
Operational hours.
Mileage run.
Odometer reading.
Dashboard critical alert status.
And many other customizable settings.
EFFECTIVE VEHICLE UTILIZATION
It's quite a challenge to identify the vehicles that are utilized effectively and those that are not.
AVLView's analytics helps you quickly identify such cases and arrive at insights for you to make more informed decisions.
Easily infer percentage of utilization via charts and graphs.
Easily infer percentage of utilization via charts and graphs.
Proactively reduce maintenance costs by putting an end to excessive usage.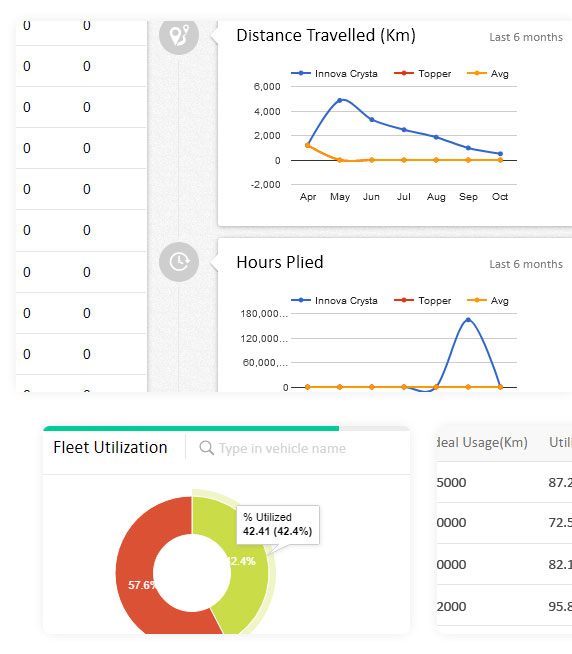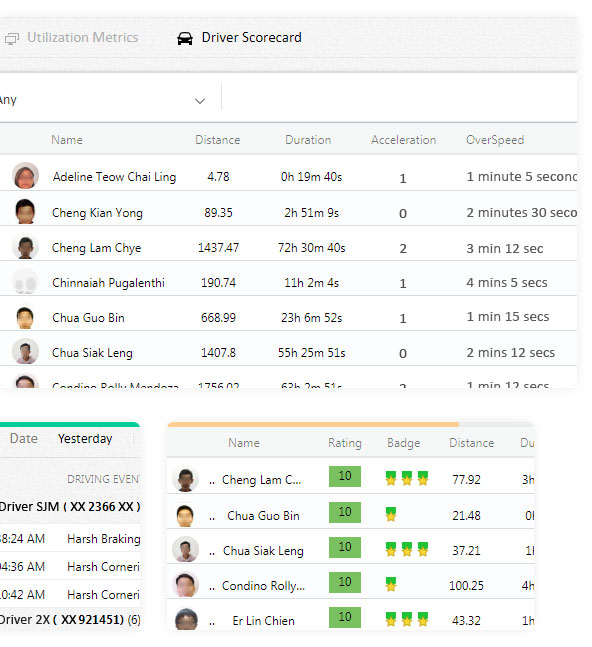 FLEET DATA CAN CHANGE YOUR DRIVERS
AVLView establishes a vital connection between you and your drivers by automatically gathering information on vehicle incidents and driver behaviours.
It leads to fewer worries for you and your clients.
Drivers tend to be more cautious and drive responsibly.
Best performing drivers can easily be identified and recognised.
Quite easy to monitor speed violations and non-seat belt driving by drivers.
DRASTIC REDUCTION IN FUEL EXPENSES
Digital fuel level sensors helps to obtain reliable information about current fuel volume in the vehicle tank.
You can also detect possible fuel theft from the tank and carry out the remote tank monitoring.
No more fuel pilferage as drop in fuel levels will be alerted on time.
Detailed reports can be generated on the exact amount of refuel, location, date and time.
Fuel bills produced by drivers can be compared against the reports generated.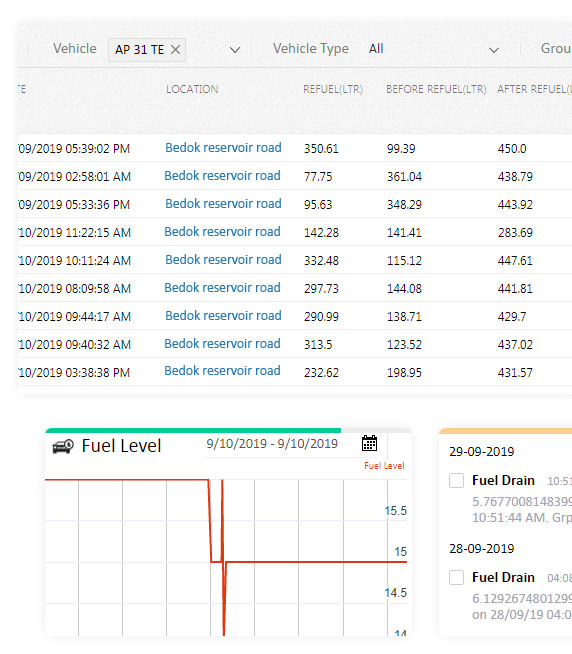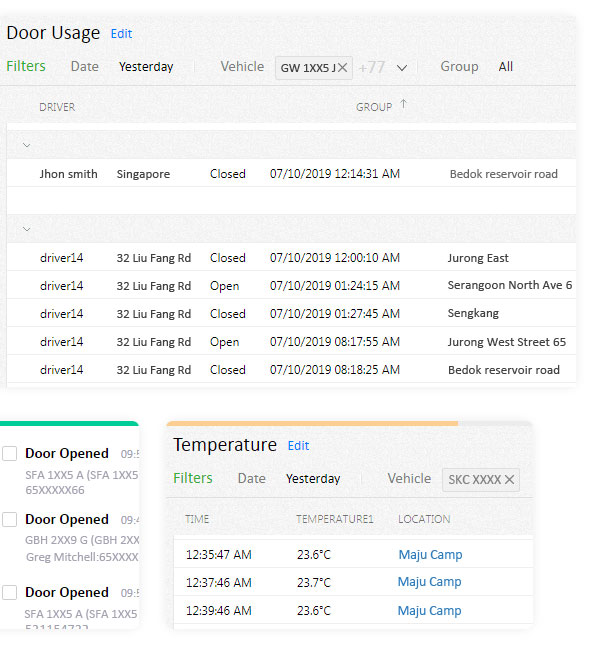 SENSOR TELEMETRY: TEMPERATURE AND DOOR
Accurately monitor your cargo environment conditions during transportation, detect temperature variations and cargo door open/close events.
You no longer have to deal with a truckload of damaged goods due to temperature variations.
Temp. sensors helps effective diagnosing of cooling compartment inefficiencies enabling service quality improvements.
Detect opened or closed status of cargo door.
You'll be alerted whenever the cargo door status changes outside of permitted places.
RESTRICT UNAUTHORIZED USAGE
Avoid such experiences where drivers misuse the vehicles by ferrying goods for third parties. That's when AVLView is really a boon for you.
You can specify the business hours for the vehicles in the fleet.
Timely alerts on any trip run during out of business hours.
Driver identification helps you to restrict unauthorized entry.
Overloading of vehicles can easily be curbed.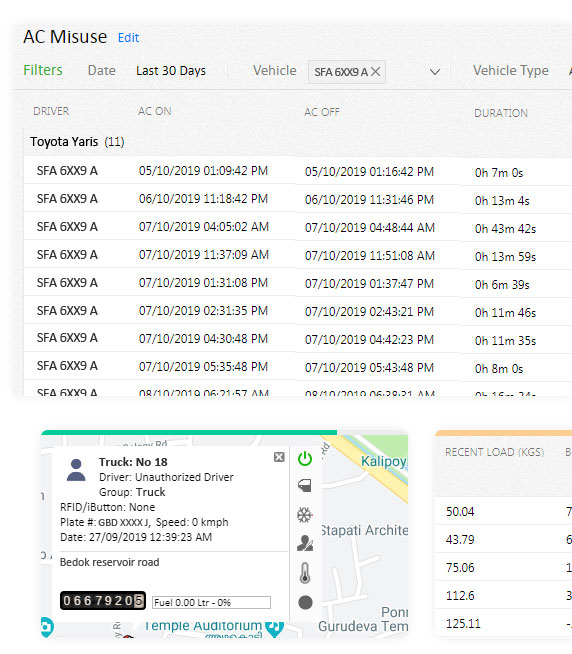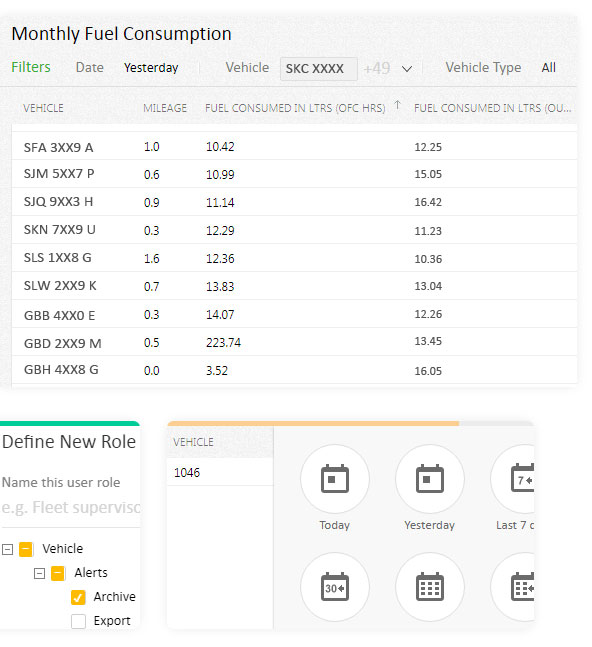 ROBUST REPORTING AND RESTRICTED ACCESS
It's always been a challenge for logistics companies to make quick operational decisions as they lack the required information.
AVLView platform helps you generate reports in no time, that too on several important metrics.
Reports on mileage, fuel consumption, trip duration, idling time etc.
Only key employees may be granted access to important reports.
You can create roles and restrict access as per your choice.
EFFECTIVE UTILIZATION OF TIME
For any logistics company, time wasted is money wasted and hence AVLView's GPS tracking software helps you cut down the wastage of time.
The exact time spent on stoppages and breakdowns can be easily inferred.
Drivers can no longer exaggerate the time wasted due to stoppages.
Suggests easiest possible routes.
You will be alerted as soon as the vehicle deviates from the predefined route.