Assigning routes to vehicles, so you could receive alerts on route deviations, had never been easier. Latest addition to AVLView helps you create routes from history with stoppages as waypoints en-route. ie., all the stops made by vehicles on a trip will be suggested as waypoints.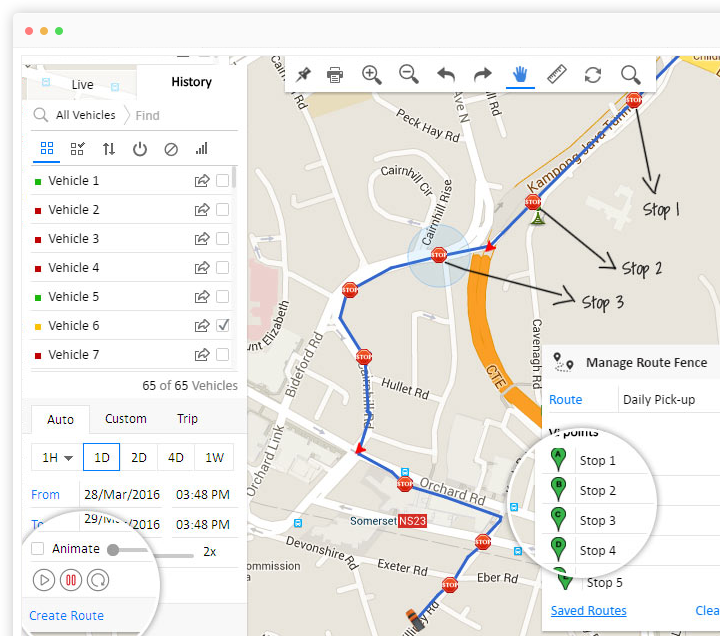 Let's discuss this further with a simple example of school bus.
School bus-1 travels through same route on all weekdays for student pick-up. Defining this route on map may sound easy, but with all student pick up points will be a hard & time taking task. And the accuracy of pick-up stops/points does matter to core, if the busses are equipped with RFID readers for student tracking.
With the latest addition, you may first equip the school bus with GPS tracking device and let the bus follow the pick-up trip on its usual route for a day. Login to your AVLView account the next day, run the vehicle history and click on 'Create route'.
 
You could see a new route being drawn on map along with the pick up locations as waypoints. Just save the route & you may create your new trip schedule using this route and assign it to vehicle.
Note: To create a route from history, you need to completely run the trip once. Maximum waypoints allowed on a route are 21 (excludes trip start & end points).
Other Improvements
iButton authorization modes configured for latest Ruptela devices (latest firmware upgrades required).
Refresh button to view latest alert updates on 'Alert Description' page; alerts can now be downloaded as an excel file too.
Vehicle group to be listed alongside vehicle in various reports including Vehicle Current Status, Ignition/Stoppage Based, Stoppage, Idling, PoI Visit and Transit.
Vehicle model and type to be shown on Dashboard & MapView while mouse hovering on vehicle name.
Shows duration of current status (Moving, Stopped, Idling, Out of Network, Disconnected) while hovering mouse on status indicators (Green, Red, Blue, Yellow, Grey respectively).