Have you ever been in the situation where you're waiting for your child at the bus stop, checking your watch, and the bus is five minutes late, and then ten minutes late; and then twenty minutes late; then you know the monologue in your mind during those moments very well?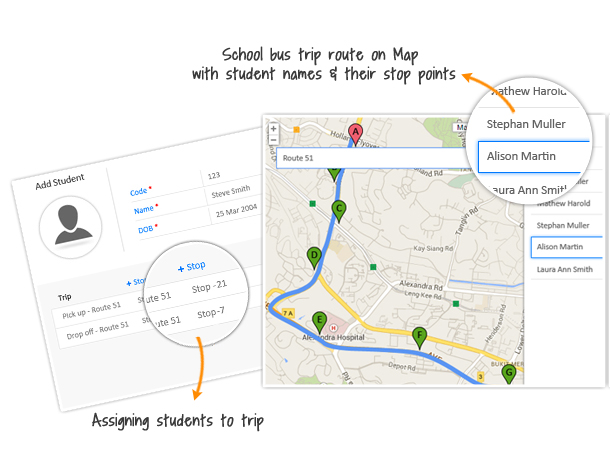 Salient features of the school bus tracking add-on

Create pre-scheduled trips for school busses.
Assign a specific route (route fence) through which the busses have to travel.
Include student pick-up/drop points as waypoints.
School management will receive notification alerts (by SMS/email) on schedule violations (mismatching in times, route deviations & missed stoppages).
Add students to the school bus module with their grade info (class, division, etc.), e.g., VII C.
Assign students to scheduled trips (e.g., Route 51) and assign their stops too.
Assign multiple trips for students, but only one stop in each trip (students will have at least two assigned pick-up/drop-off).
Trip-view on the map gives a clear cut view of the route & stoppage points (Student pick-up/drop off).
Parents have a sub-user account with live tracking of the school bus that tells the progress of their kid's journey and the estimated time of arrival at their stops.
Other Improvements:
Trip schedule to have an entirely new outlook which makes it easy to work with.
Calendar & List View of schedules
MapView for scheduled trips
Upto 21 Via-points can be added for each schedule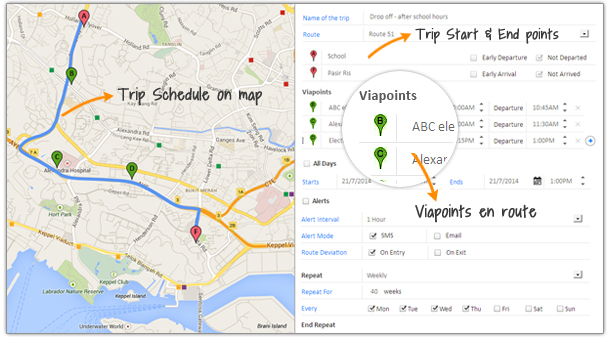 Share location
info of vehicles/shipments has been enhanced and made more beneficial for logistics/courier companies.