Real-time school bus tracking
The convenience and simplicity of school bus tracking system
As a parent, there's nothing more stressful than her child not reaching home on time after school hours. It makes parents nervous enough, their minds framing up 100 possible nightmares.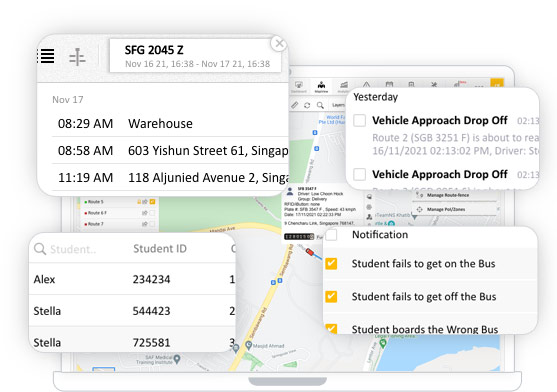 School admins testify that installing a GPS device on school buses improved efficiency
Live tracking for schools & parents
Estimated time of arrival at each bus stop
Tune every view to fit your fleet operation
Set up views, work with your data, and make it meaningful. View colour coded live, past vehicle tracks, and share the actionable information.
Tune every view to fit your fleet operation.
Set up views, work with your data, and make it meaningful. View colour coded live, past vehicle tracks, and share the actionable information.
Consider school bus tracking system
Are you a school admin looking for ways to make your school bus operation more efficient?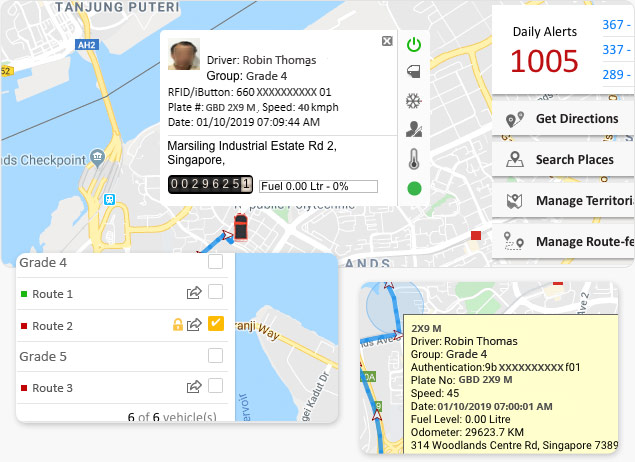 AVLView School bus module
The school bus tracking system module offers many benefits for the school system and the parents of the children who ride the bus.
Precise location tracking;
Monitor your vehicles 24/7;
Know when they stop, where, and for how long;
Live Location updates in every 20 seconds;
IOS and Android apps available;
Playback history and replay to analyse past vehicle movement;
Be aware of ETA (Estimated Time of Arrival);
Manage student attendance using RFID swipes;
Receive Alerts/Notifications.
School Bus Monitoring
School bus tracking software allows all users with valid login credentials (sub-users) to monitor the vehicles via mobile app, but with visibility limited to the assigned vehicle groups.
Advanced scheduling and routing method;
Student timesheet report with Real time updates on student RFID swipes;
Identify students' status on pick up/drop off trips with continuous location updates;
Get notified if a student fails to get on the bus and let you know;
Panic/SOS buzzer for quick notification on accidents.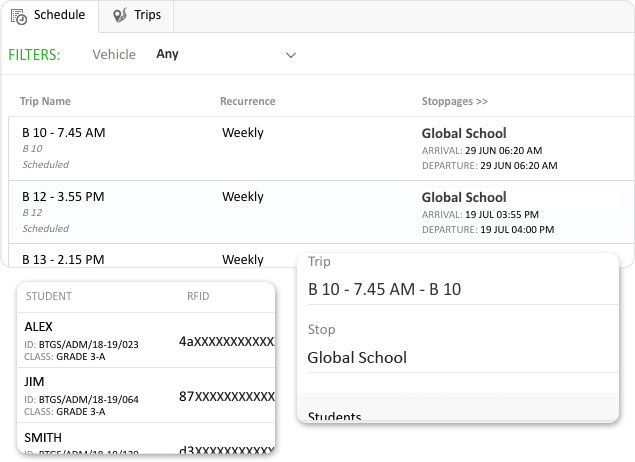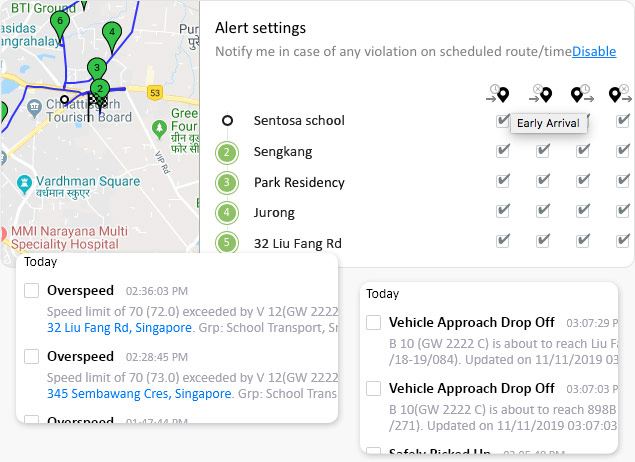 Alerts
As parents, using a school bus tracking app allows you to receive Immediate notifications on school bus trip progress and kids' RFID swipes.
You apparently get to know when the bus leaves school, about to reach for pick-up and drop-off and with RFID swipes.
School bus tracking app also lets you get notified when your child boards/leaves the school bus at a stop.
Receive Rash driving alerts;
Alerts for parents via Email, text and/or mobile notifications;
Alerts parent and school of any unusual activity.
View Tracks (history)
With Track playback option in bus tracking software, know where all your vehicles have been to, stoppages made, route and time taken, violations made, etc.
View Historical tracks;
Create routes with waypoints based on the past tracks;
Create route-fences from historical data and optimize vehicle routes.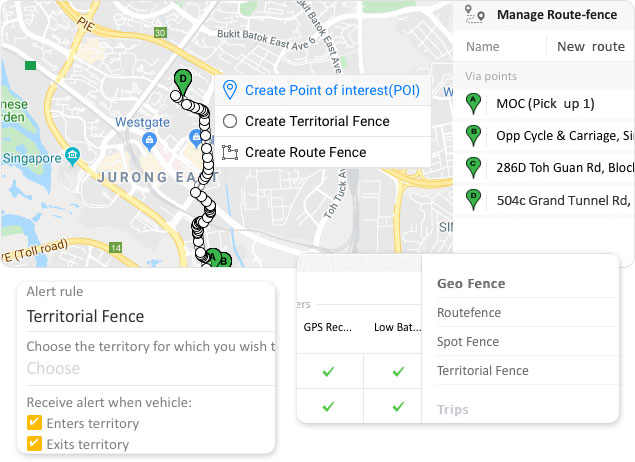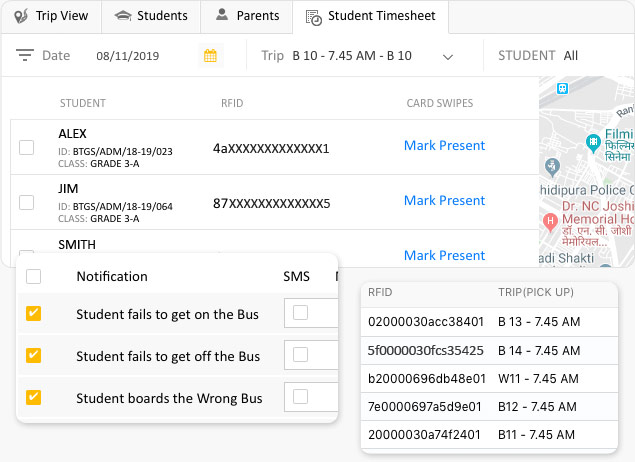 Student RFID
Student who swipes while boarding or exiting the bus ensure his/her attendance with location updates on real-time, guaranteeing peace of mind for parents and school authorities.
View attendance details based on RFID swipes;
Optimize school bus schedules and routes;
Track school bus locations;
Receive instant alerts.
Panic button
Passengers and drivers could make use of panic button/SOS buzzer fitted in an easily approachable locations.
Notify office/control centers immediately on emergency circumstances;
Once pressed, emergency/panic button initiates an alarm to the app users;
Helps them kick off recovery and emergency processes without delays.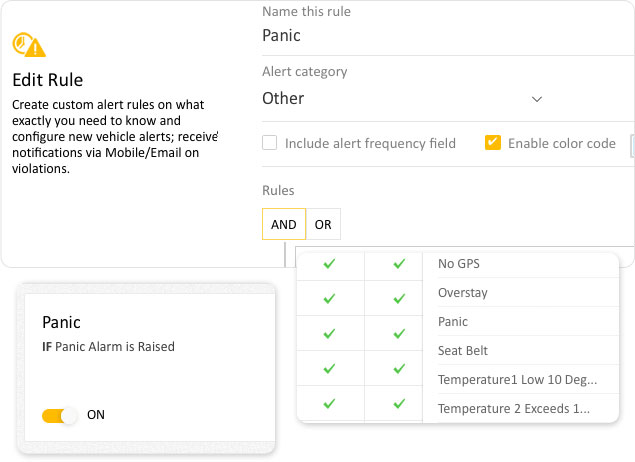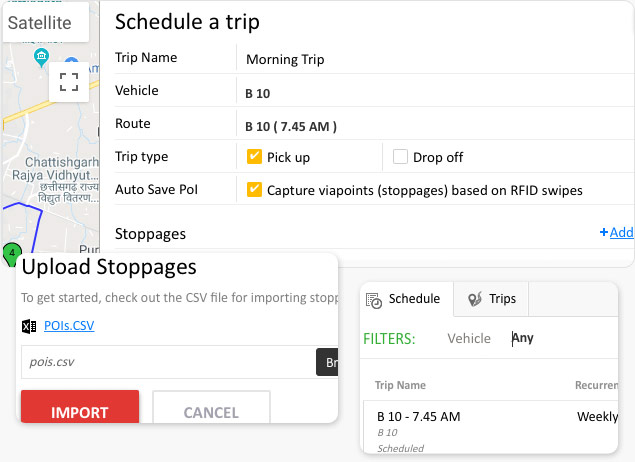 Scheduling a Trip
Schedule, Manage, and Analyse Trips to Securely Transport Kids from Home => to School => back Home.
Create pre-scheduled trips for school buses with routes;
Mark student pick-up/drop-off points as waypoints;
Receive notifications (mobile/email) on schedule violations (Early/Late arrival and Departure, route deviations, Excessive stoppage etc.);
Import student data (grade, class, division etc.);
Trip-view on map (route and stoppage points (Student pick-up/drop off);
Define active hours for parents for active usage;
Student timesheet report with real time updates on active trip. i.e., As soon as a student swipes RFID card;
Option to mark if a student as present.
Available notifications
Notifications from school bus student tracking app help the child's parents understand that there is a problem in real time and make the necessary arrangements to correct it.
When the child gets on the wrong bus;
Doesn't get on the bus or gets off at the wrong stop;
Bus is on the way for pick-up;
Bus is approaching pick-up point;
Child has been picked up safely;
Child doesn't board/boards an incorrect bus;
Child boards bus from wrong stop;
Bus is close to the drop-off location;
Child doesn't get off the bus;
Child gets off at the wrong stop.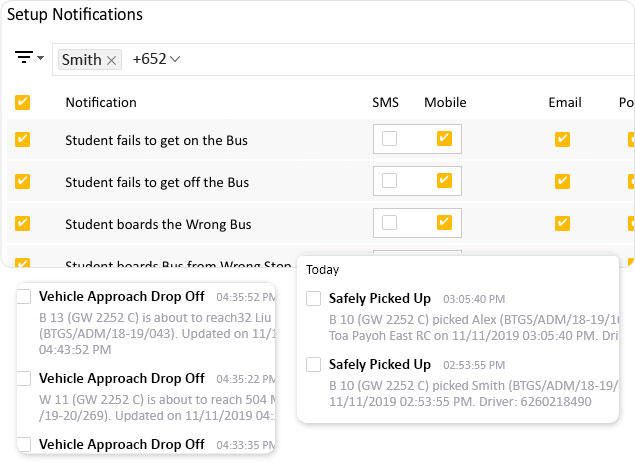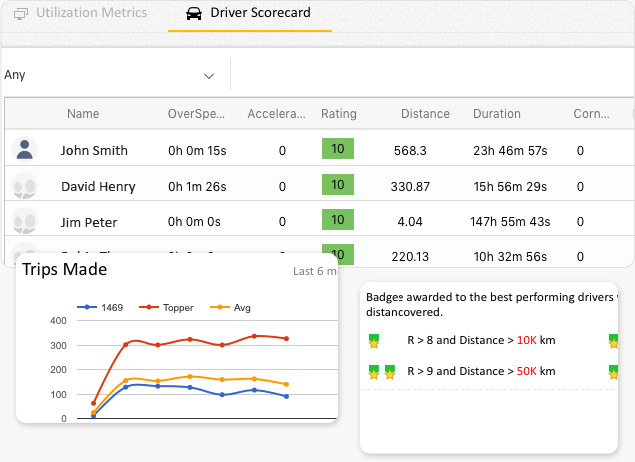 Optimize school bus transport process
For schools, the school bus tracking system helps them make good, informed decisions about drivers and routes.
This bus tracking system for school helps the school set up routes that make the most sense based on time and fuel consumption.
Help pinpoint unsafe or borderline bus drivers;
Set up a notification system for a drivers' reckless driving;
Identify any problematic drivers and replace them before a tragic accident occurs.
School Bus app
Track your kids' trip progress on the go, wherever you're, with a school bus student tracking app.
Know the current location of school bus;
Stay informed on trip progress;
Estimated time of arrival at pick up/drop off point (e.g. Delayed by 10 minutes);
Contact Driver' option for immediate assistance.
Be vigilant and make use of all the available features in School bus tracking system app. End of the day, Kids safety is our utmost priority.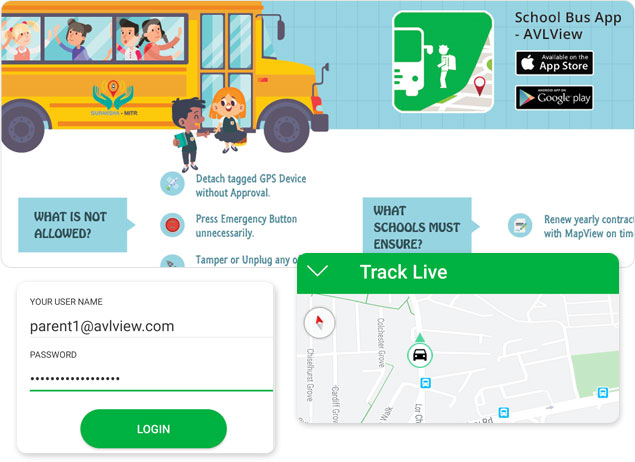 Regain control with Live GPS vehicle tracking!
Sign up for a trial account today.
The display is intuitive to use with arrows on the map showing the route that the vehicle takes.
Galvin Lian
Connect4car Pte Ltd., Singapore