Manage vehicle maintenance
A well-maintained vehicle performs better, reduce maintenance costs, and improves fuel efficiency. Never miss any periodical maintenance.
Vehicle maintenance is the key to keeping your fleet up
Periodic maintenance reminders
No delayed deliveries
We needed a means for clients to find elements from existing websites that they'd like to see in their new project. Volley fit the bill.
Fergal Walsh,
Rezayat Sparrow Arabian Crane Hire Co Ltd.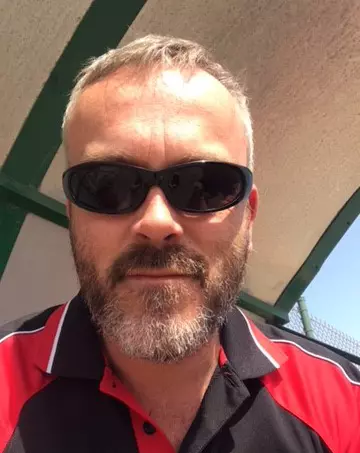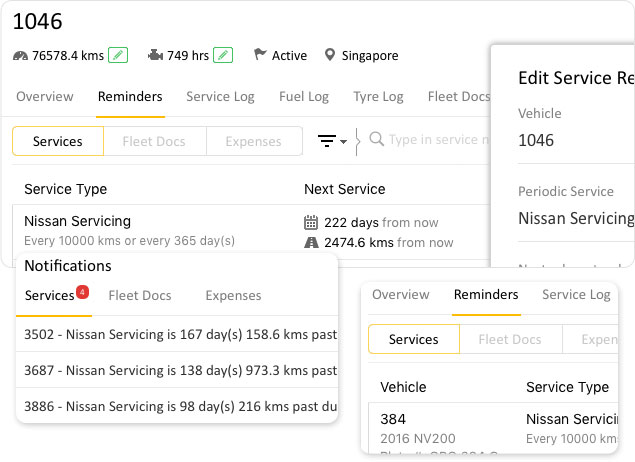 Add reminders
Have you ever tried to calculate how much money you would have wasted on vehicle parts? That's probably a number you try to get away with.
A disciplined vehicle service and maintenance check is the best way to avoid these unnecessary expenses.
Set reminders based on time (e.g: 1 year) or mileage (e.g: 10000 kms);
Mark service as done once completed;
Alerts for upcoming Service/Maintenance.
Manage operating costs
Would you like to know why your fleet costs went up?
Keep a log on all your expenses viz., amount spent on fuel, service, driver salary, insurance, tax etc.
Who knows, may be it's time to implement digital fuel sensor rods in your trucks to monitor fuel usage in real time.
Feed purchase info and other expenses;
Maintain Service/Fuel logs;
Load refuel data as .xls file;
Odometer readings with service/fuel logs;
Chart representation of fuel/service expenses;
Fuel efficiency report for detailed analysis.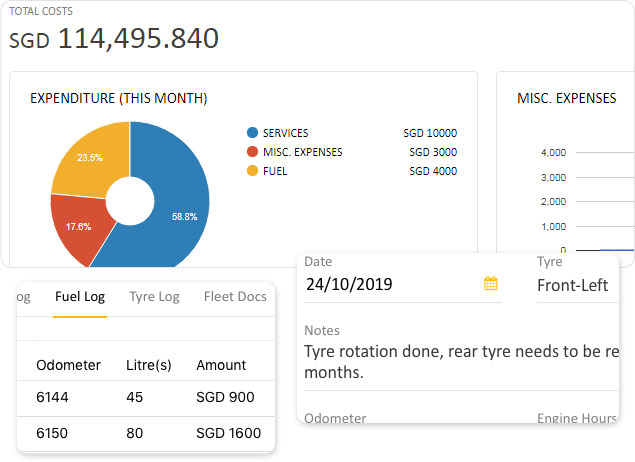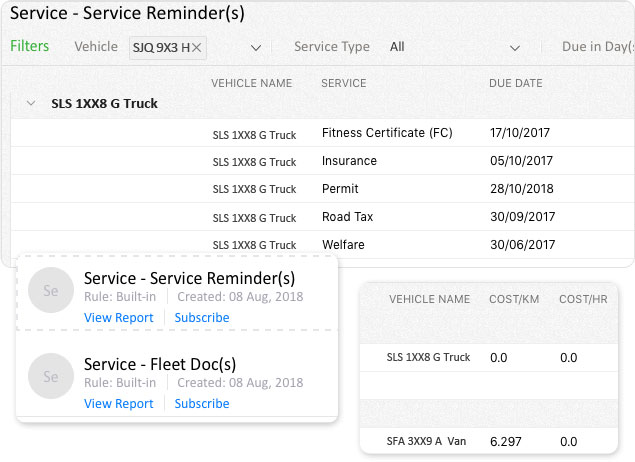 View/Download Service/Maintenance reports.
Wouldn't it be great, if you can generate a report on all completed Maintenance/Services, say in the last 6 months rightly from your GPS tracking software?
AVLView provides a host of inbuilt Reports based on Maintenance or Service. You may download the same in PDF or Excel format.
Service Reminder(s);
Service – Expense Entry;
Service – Expense Sheet;
Service – Running Cost.
Regain control with Live GPS vehicle tracking!
Sign up for a trial account today.