Latest version 5.2.5 includes numerous requested features and improvements. Thanks for your patience- we expected to get this done sooner, but it was harder than we initially thought.
Trip Schedule with a new look
View a trip in detail on 'Schedule' tab; you get a clear understanding on the vehicles assigned with trips including their scheduled arrival/departure times.
And, you get real time trip progress updates on this report; that means, once the vehicle covers one of the stoppages enroute, you could view the departed time along with the change in scheduled and actual times.
e.g., In case of delay, you will get actual departure time and delay from the scheduled time.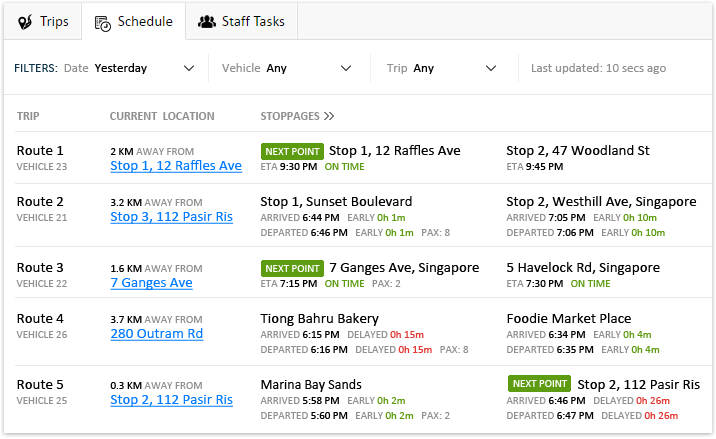 Not just limited to that, improvements have been done with waypoints too, you may now upload waypoints altogether in .xls format to a schedule. And, that makes the job easier than ever, you just need to create a file with waypoints (Location name, Latitude, Longitude) and upload it.
Once done, with the help of new drag & drop feature, you can rearrange the intermediate stoppages in order, along with their scheduled arrival/departure times for each waypoint.
Timeline View for vehicle history
Get a whole timeline view of your trip history for a day; drag the slider on timeline grid to view vehicle movement on map. This makes it easier to find an event or get vehicle location info on a specific time, without having to run the entire playback history or trip.
MapView => History => Trips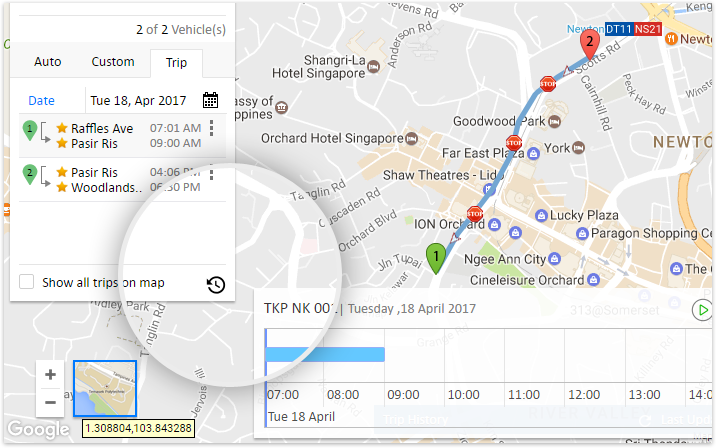 Improved Dashboard
Vehicles on dashboard can now be filtered and listed based on organizational preferences. A new feature as shown in the following image helps you gain quick access to recently searched vehicles whenever you search for a vehicle on dashboard.
All the sensors listed on dashboard right panel can now be selected and listed on center panel too. Which means, you can choose what all sensors/features to be shown once you login with an expanded mode of dashboard.
Enhancements in PoI Management
No longer do you have to be bothered about deleting unwanted/unused PoI's one by one. Now you can do it all once. Choose those PoI's and delete all in a go as shown in the following image.
Administration => Manage PoI/Zones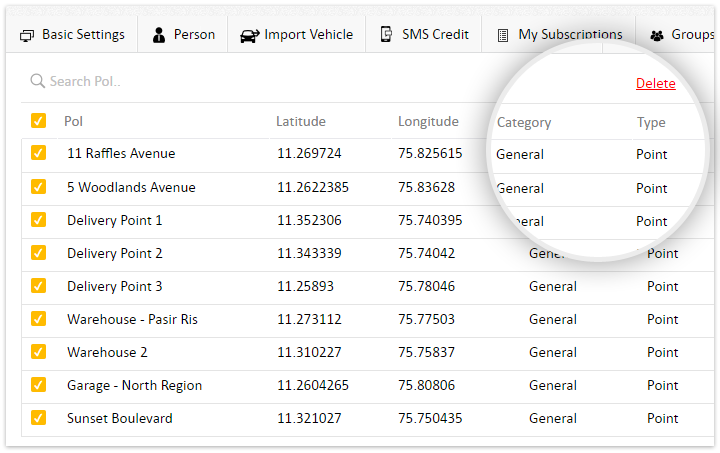 The latest version also allows you to export previously saved PoI's in 3 different formats; .xls (Excel), GPX (GPS exchange format) & KMZ (Keyhole Markup language Zipped).
Vehicle/Personnel/Asset count to be shown against each group; clicking the count re-directs you to the respective list.
Administration => Groups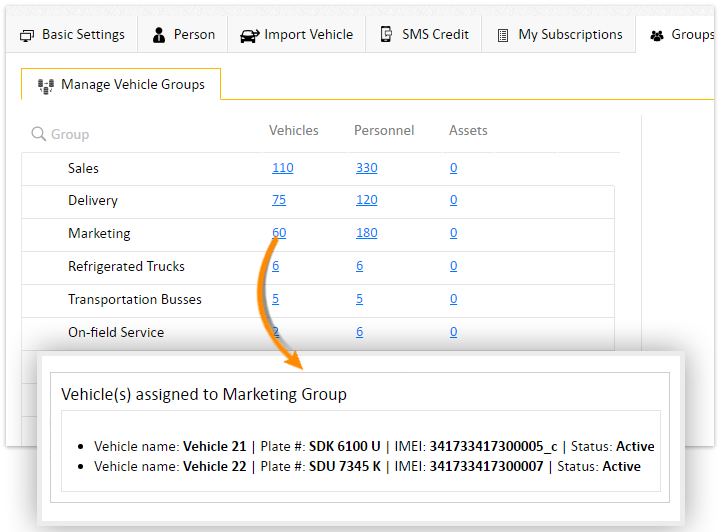 Improvised user activity log with each activity recorded with timestamps indicating who committed which action at what time.
Example 1: John Smith deleted a vehicle, Vehicle 11 (SDK 6100 U), from Singapore Pro subscription on 22/04/2017 11:35:00 am
Example 2: David created a new PoI (Delivery point 26 – 47 Raffles Ave) on 21/04/2017 02:42:25 pm

Other improvements
– Multiple territorial fences can be assigned to a vehicle at a time
– Images of fuel/service invoices can now be attached alongside fuel log for future reference
– iButton swipe details to be shown on incident report
– Minor bug fixes
What's new in School bus app? Read release notes.