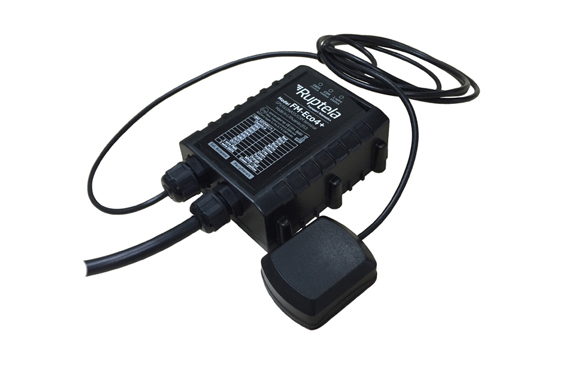 What would be the last thing you fear to face while using a GPS Tracking System to track your vehicles & monitor your driver performance? No second thoughts, the performance of the tracking device itself. You installed GPS tracking devices in your 100 vehicles and within a year's time, 20 of them are down, the rage you felt is quite understandable. The time when you start thinking of a device with least fault history, that can serve you all the time, the one you can rely on to track your vehicles 24/7.

Take Ruptela FM Eco 4+; this GPS tracking device have a very sturdy body manufactured to IP67 compliance standards that meets the expectations of full resistance to dust and water. Ruptela Eco 4+ is designed to work despite of environmental limitations that makes it a strong competent for tracking even motor bikes & boats. Designed & manufactured in European Union with an e-mark certificate (72/245/EEC directive), this GPS device has a failure rate of less than 0.2%. ie., if you take a 1000 devices together, chances are less than 2 will be faulty.

Ruptela FM eco4 + GPS tracking devices are most suitable for:
Real time tracking and monitoring of vehicles
Can support 2 analog fuel sensors @ a time
Temperature monitoring
Driver identification & authorization
See when battery voltage is dropping
Somewhat compact size, durable case & built-in internal battery of Ruptela Eco 4+ GPS tracking device (82x63x28mm) makes it highly recommended to be installed in various types of vehicles:
Light Vehicles
Trucks
Motorbikes
Motorboats
Agricultural machinery
Building machinery
Segways
Ruptela Eco 4+ is enabled with high sensitivity motion sensors & receivers that help to have a better reception compared to the devices that comes under the same category. With a lower price tag, Ruptela FM Eco4+ is one of the rarest kinds which records data by time, distance & angle. This European made GPS tracking device comes with an integrated power backup which enables the device to be alive for an hour more even after getting disconnected from the vehicle's battery. A 2 MB flash memory independently sends data for up to 2 days (depends on data frequency) in case of GPS/GSM absence. With an ample battery disconnection alert, you could get set for the expected and take any sufficient actions to overcome the unexpected location data/update loss. Not just that, the internal jamming detection functionality of integrated serves as a protection against theft thereby blocking the vehicle engine from working further.

Ruptela FM Eco4+ GPS tracking device is considered as one of the most popular medium budget GPS devices in the market coz of its excellent build quality & exceptional resistant to voltage spikes.

Firmware features include:
Records by time, distance and angle
4x configuration profiles (changing by IO parameters or operator code)
Remote configuration
Firmware upload over the air (OTA)
Eco-Drive (Green driving)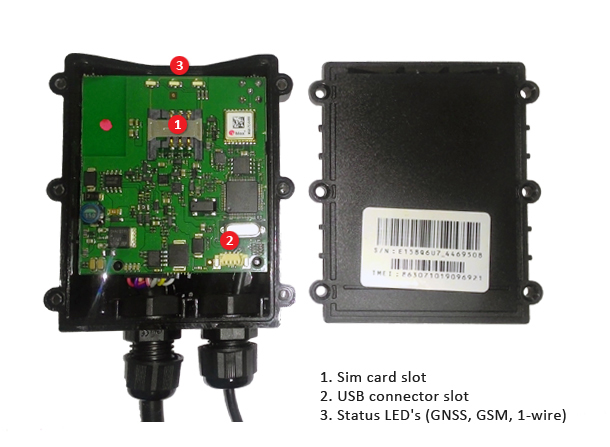 The sturdy & powerful outer layer of this GPS tracking device allows it to work effectively at temperature levels ranging from -35 to +55 degree Celsius; a perfect fit for the Middle East as well as the European countries. With 4 digital inputs & 2 analog inputs, Ruptela Eco 4+ is capable of handling multiple external sensors including fuel, temperature, driver identification, remote immobilization etc. Advanced motion sensors integrated to this GPS tracking device reduce your GPRS data usage by a huge deal by switching the update frequency depending on ignition status. For eg: let's say that the location update you need is in every 20 seconds while the vehicle is running & in 5 minutes while stopped. This Ruptela GPS device continuously monitors & identifies ignition input and vehicle movement waking up the device, switching the update frequency to lower one while the vehicle is running.

Device Specifications
IP67 waterproof
Low power consumption
Internal battery (FM-Eco4+)
Power Supply: 10-32V (resistant to peak pulse up to 72V)
4x digital inputs
2x digital outputs
2x analogue inputs (Input range 0-30V)
Internal GSM antenna
External GPS antenna
Operational temp.: -35°C … +55°C
Storage temp.: -40°C … +65°C
Internal memory: 2MB
GSM: Quad band GSM module; SMS(Text/Data)
GPS/GLONASS: Ublox GPS/GLONASS receiver
USB – configuration, logs, FW update
LIS3DH accelerometer
2 x LED – GPS status, GSM status
Communication methods: GPRS / GSM / SMS / OTA

Guess what could be the first challenge once you decide to automate your fleet; it's obvious, choosing the right GPS tracking device & software, but more so often you forget to think about it pretty wisely with the overwhelming number of products available in market.

What if the system you choose cannot keep track of your vehicles when they are parked underground/travelling through places where there are no GPS signals? What if there occurred a theft attempt in your vehicles at that time? You wouldn't even know.

But you could know if you use Ruptela Eco4+ GPS device; it sends high priority I/O events to application hosted servers, even in the absence of GPS signals, establishing a strong communication through GPRS & SMS. And the USB support provided by this GPS tracking device offers offline data logging, all you gotta do is connect the data cable to a USB port and download received data to a PC/Laptop. This may help you to reduce your GPRS bills charged by network operators whilst roaming.

Ruptela FM Eco 4+ is built with numerous protections including:

Short circuit protection
Reverse polarity protection
Electrostatic discharge protection on USB
Electrostatic discharge protection on 1-wire
Overcurrent protection on 1-wire power
Electrostatic discharge protection on sim card slot

Ruptela FM Eco 4+ GPS tracking device coupled with AVLView fleet automation offers:
Real time tracking with frequent & regular updates in every 20 seconds
Notification alerts on Overspeed, Overstay, Engine idling, Ignition, Geofences, Route-fences, Spot fences, Park fencing, Panic button, Aircon, Door, Temperature (1 sensor), Harsh driving, Device disconnection etc.
Remote immobilization to stop the vehicle remotely
iButton for driver identification (1 wire protocol)
Vehicle usage analysis
Driver performance analysis
Business Intelligence charts & reports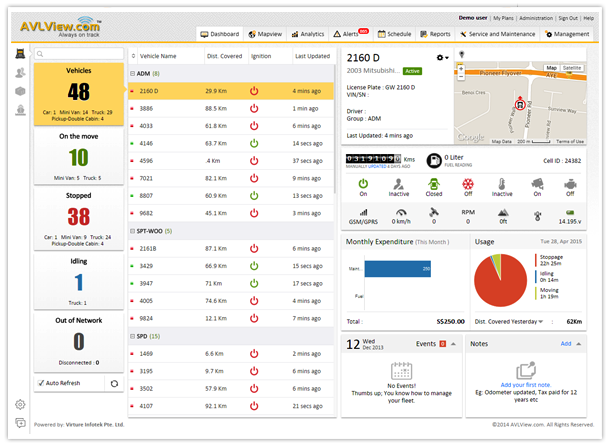 For those who have failed with GPS tracking devices in the past, Ruptela FM Eco 4+ GPS tracking device will be one of the best & affordable option in the market at the moment. Try this once, you will not regret. For more information, please visit Ruptela website.

Learn how to configure Ruptela Eco4+ GPS tracking device.