Nightly report delivered daily
Create vehicle tracking reports on the fly
20+ charts and nearly 50+ concise vehicle tracking reports, all brief yet highly informative.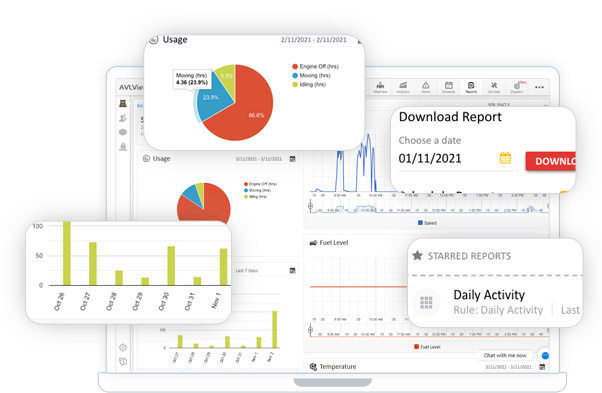 Ad-hoc, meaningful GPS tracking reports do the sorting
It gives you valuable insights
Increase top-line revenue.
Tune every view to fit your fleet operation
Set up views, work with your data, and make it meaningful. View colour coded live, past vehicle tracks, and share the actionable information.
Tune every view to fit your fleet operation
Set up views, work with your data, and make it meaningful. View colour coded live, past vehicle tracks, and share the actionable information.
Fleet intelligence at your fingertips
With charts and concise reports, all brief yet highly informative, you have all the
information at your fingertips for making smart business decisions quickly.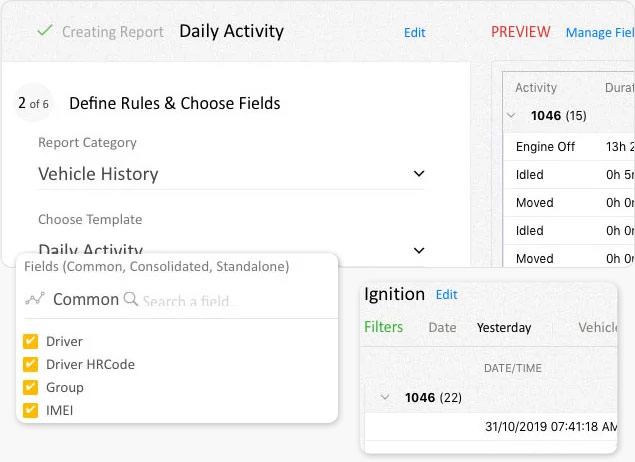 Create fleet reports on the fly (Ad Hoc)
It helps you to get up-to-the-minute insights into data that a normally scheduled report can not provide.
The ad-hoc wizard can be used by everyday business users with no technical background at all
Produce reports fast, with near-to-real-time data, and your own parameters;
Be agile, dynamically modify the report template;
Delve into your data to find out anything you want even when fleet move.
Generate and download huge report data in seconds.
Generate reports with the predefined default template
As many as 20 inbuilt reports template to choose from based on criteria that suit generic fleet operation.
Customize the report template;
Clone a report template;
Schedule reports;
Drag, drop report fields;
Export report in Excel or PDF format;
Access to past report data for 12 months;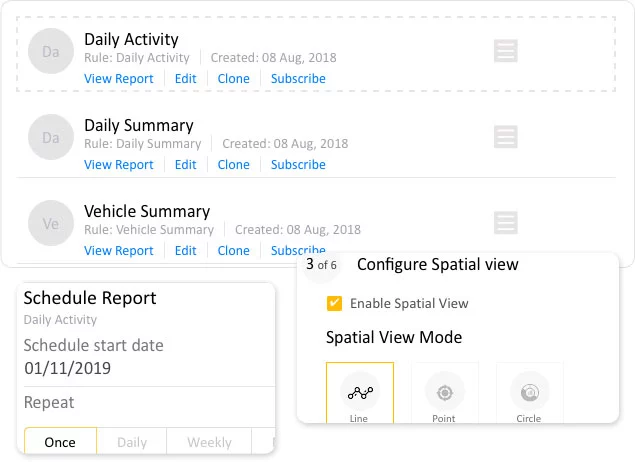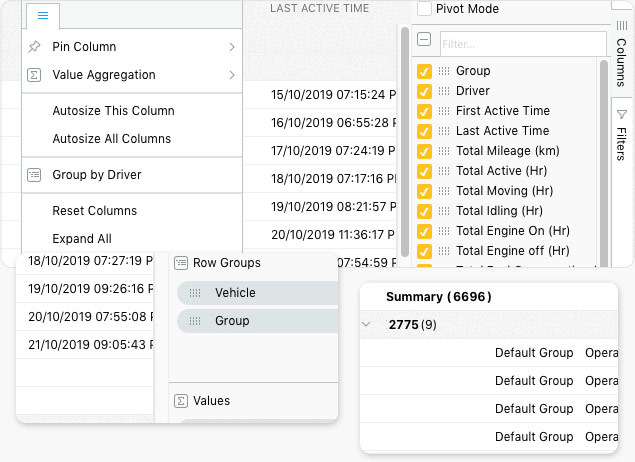 Group by entity and attribute
You may group the entities on the report grid based on multiple criteria, such as vehicle, date, events. In addition, you can format the report grid viz..
Pin columns;
Do Value Aggregation (e.g. SUMMARY);
Drag and move a column to left or right;
Auto size all or specific columns;
Expand or collapse the summary.
Trip based GPS tracking reports
You may define a trip based on considering how the journey ends. E.g., Ignition On -> Ignition Off or Ignition On -> Vehicle stops for, say 5 minutes.
Trip based GPS tracking reports are categorized as follows;
Ignition or stoppage;
Points of Interest (PoI);
Transit;
Staff timesheet;
Ignition On/Off;
Daily summary;
Vehicle summary.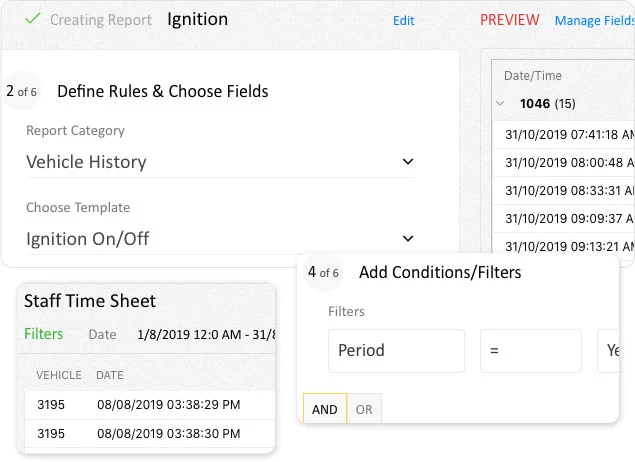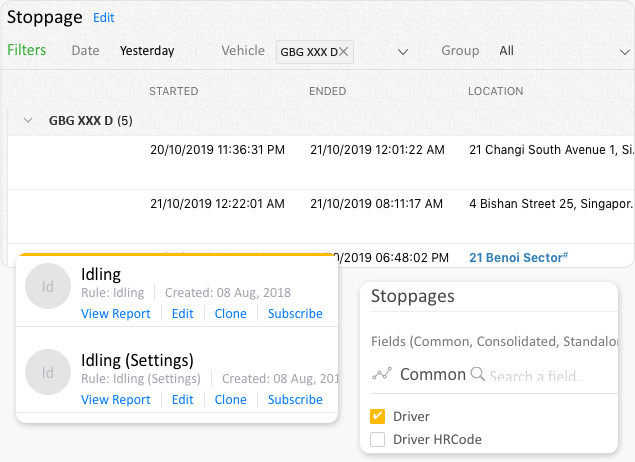 Stoppage and/or Idling reports
Insights on stoppages and Idling instances made by your vehicles; where exactly did the vehicle stop or idle, for how long and with the timestamp.
Stoppage;
Stoppage (Settings);
Idling;
Idling (Settings).
Reports on driving violations
Such reports are based on different driving violations committed by drivers viz;
Speeding incidents;
Driving without wearing a seatbelt;
Reckless driving offences;
AC misuse;
Trailer door (open/close) events.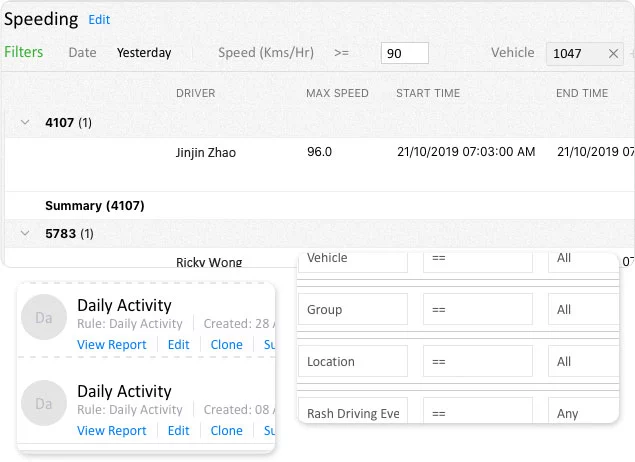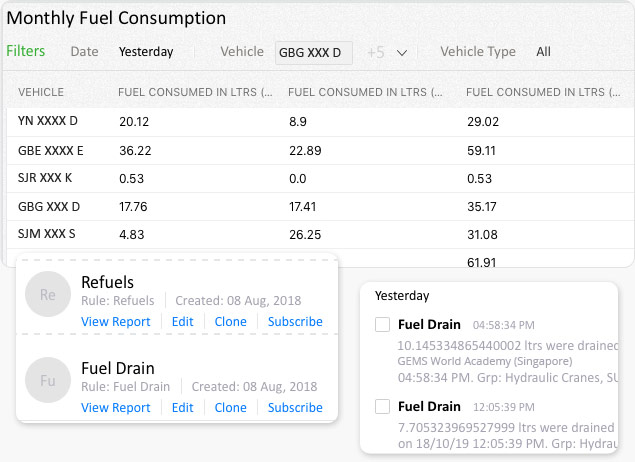 Fuel Reports
Simple and easy reports based on fuel consumption, refuel and drain.
Monthly Fuel Consumption;
Refuel reports;
Fuel drain;
Fuel consumption (based on refuel data).
Other useful reports
These are reports based on different criteria and provides an overview of all the activities involving the vehicle.
Reports based on daily activity;
Reefer temperature;
Vehicle utilization report;
Zone or PoI based on vehicle Status;
Territorial fence entry and/or exit;
Trash collection report;
Crane and/or equipment usage;
Load and/or unload;
Driver summary reports;
Vehicle service reminders;
Raw fleet data from the GPS device.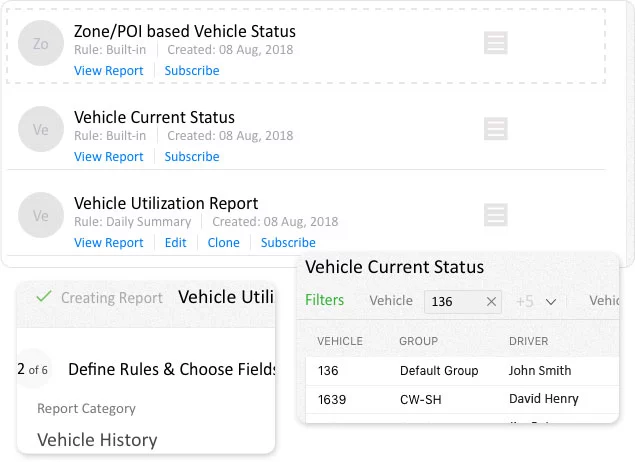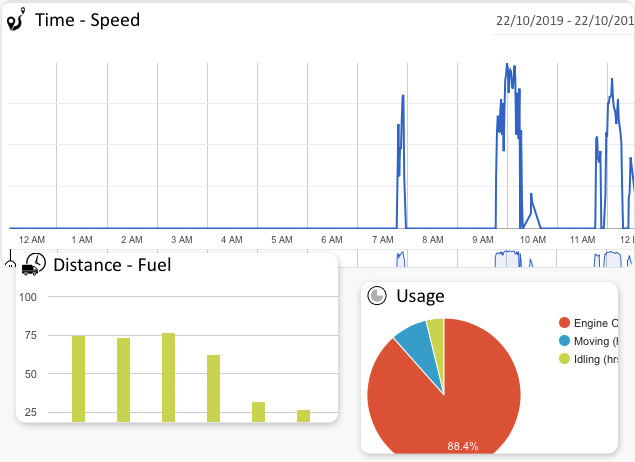 Charts
AVLView lets you view data in the form of informative charts and or spatially that help you better understand and analyse data.
Charts based on vehicle usage;
Based on time;
Distance covered with a spatial view;
Fuel level charts;
Reefer temperature charts;
Fleet load with the haul.
Offline report
In addition, you can configure to receive reports as and when you need.
Scheduled offline report to be delivered via email;
Add users who wish to subscribe and receive the report;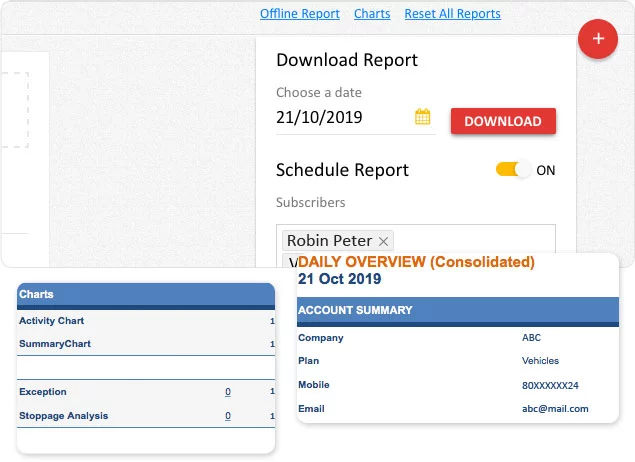 Regain control with Live GPS vehicle tracking!
Sign up for a trial account today.
We did extensive research, evaluated many vehicle tracking systems before choosing AVLView. Thanks to their well-structured team giving us personal attention along the way.