Receive alerts on mobile device
So you can take actions in real-time, whether it's an accident, a schedule violation or harsh driving.
Mark locations such as company or customer offices
Get notified of vehicle exit or entry
Alerts based on your own rules
We needed a means for clients to find elements from existing websites that they'd like to see in their new project. Volley fit the bill.
Fergal Walsh,
Rezayat Sparrow Arabian Crane Hire Co Ltd.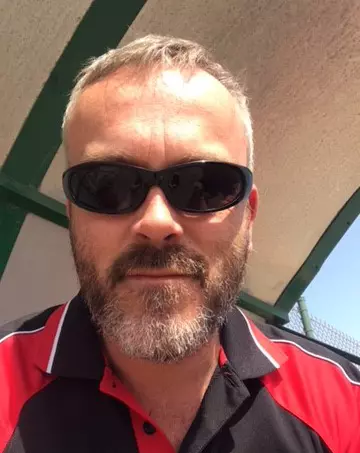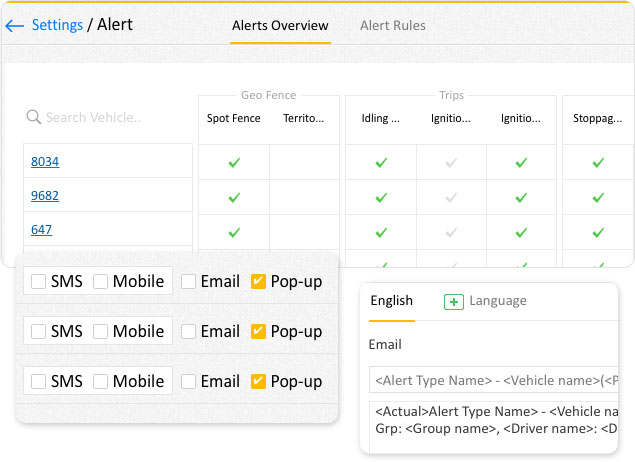 Vehicle Tracking Alerts
Keeping in mind different scenarios where in a fleet owner would like to get notified of, AVLView has created different types of alerts to suit your requirements.
Application lets you..
Receive alerts via Email,SMS, push notifications, Pop up;
Configure the alerts based on different alert rule;
Customize the template;
Drag and drop a field to insert the same in message template.
Geo Fence Alerts
AVLView provides you the option to create your own Fences in the map and set alerts based on the same. Alerts are categorised as
Route Fence;
Spot Fence;
Territorial Fence alert;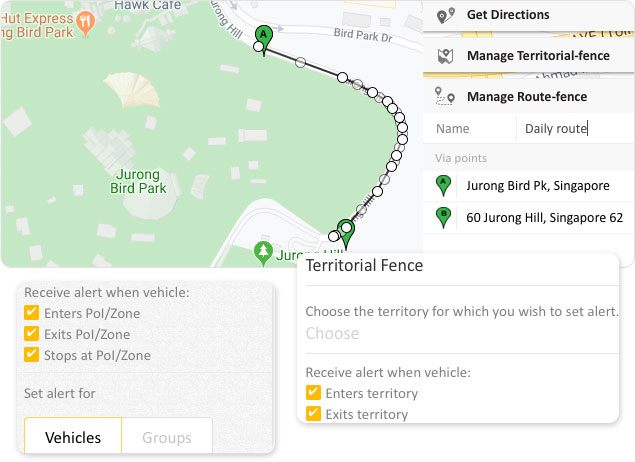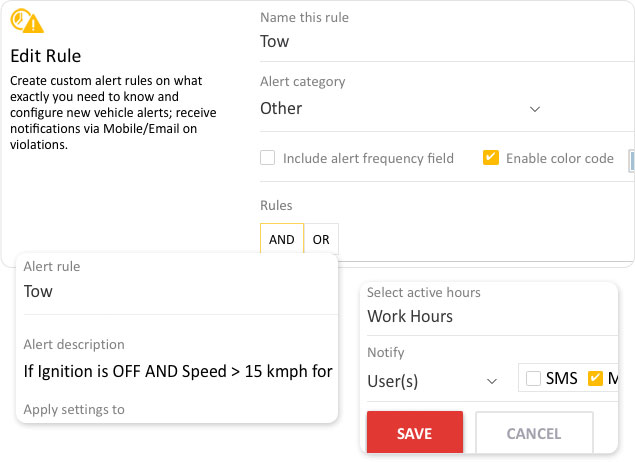 Tow
Park fence alerts are sent when your vehicle's engine is switched off and moved out from the automated fence you set.
What if your vehicle is being towed away?
You clearly wouldn't be aware of and that's what tow alert is for, get notified immediately by Mobile, Email and/or Pop-up on your screen.
Tow alerts can be time based.
Alerts can be sent to select/multiple recipients.
Idling Alerts
Your company's fleet costs are sure to increase if your trucks idles en-route, as the running motor.
With the volatile fuel costs, you definitely do not want to be wasting your money on more fuel than is necessary.
Not only does idling burn fuel, but leaving the motor running while in parking state can cause engine wear and tear too.
Whenever there's an idling instance.
May include fields such as Location, Date, Time etc.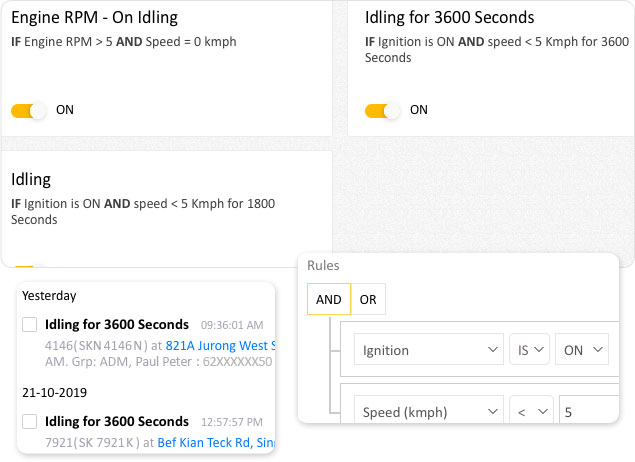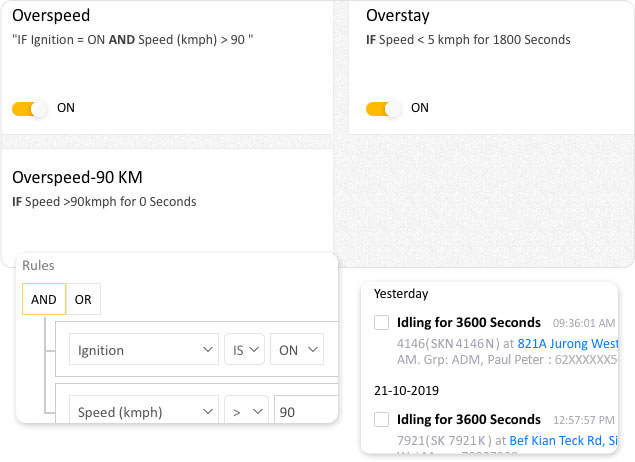 Over Speed Alerts
Reckless and aggressive driving contributes to more than 80% of the motor accidents.
Your driver/staff are your representatives, road accidents they are involved while on duty add up to your responsibilities to the public.
Speeding tickets, accidents, sudden breakdowns – stories never end, so do your worries. Set a speed limit for your vehicles and get notified on violations.
Set speed limits based on working hours/days;
Automatically set to the road's speed limit;
Alerts sent to multiple recipients;
Fuel (Low fuel, Refuel and Drain) Alerts
As a fleet owner, cost and consumption of fuel is always a concern, and fuel savings continue to be fundamentally important for a successful fleet operation.
AVLView GPS vehicle tracking system is integrated with high quality digital fuel sensor rods that offer upto 95%* accuracy in fuel reports.
Specifically designed for trucks;
Multi level calibration procedure ensuring upto 95%* accuracy;
Notification Alerts and Reports on Low fuel, Refuel and Fuel drain.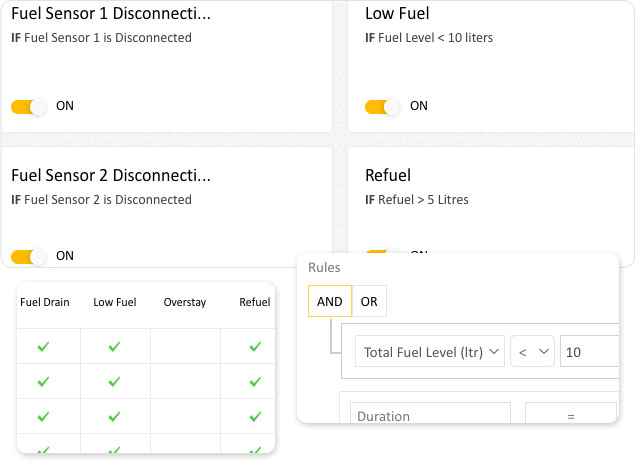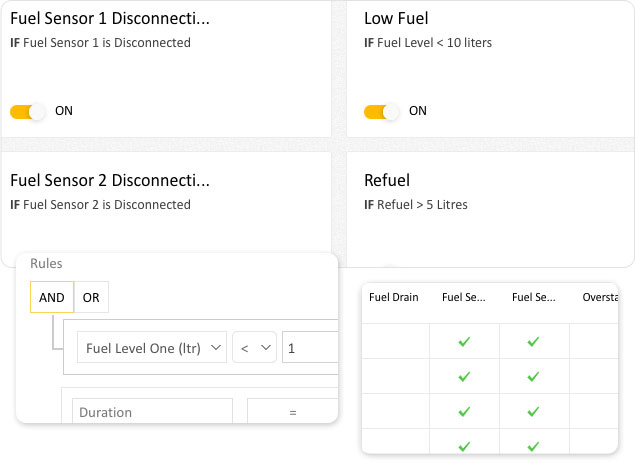 Fuel Sensor Disconnection Alerts:
You will be alerted if the Fuel sensor installed is in disconnected status. It could have happened due to
Wiring Issue;
Physical tampering.
AC Misuse
Over usage or misuse of AC results in increased fuel consumption.GPS devices connected to your Aircon (AC) sensors trigger alerts when AC is switched On/Off.
AC misuse event is recorded the moment your drivers turn on Aircon in an idle vehicle.
AC On/Off alert;
AC misuse alert;
Alerts sent to multiple users;
Alerts based on scheduled days/hours;
Set custom AC misuse threshold;
Aircon status seen along with vehicle status on map.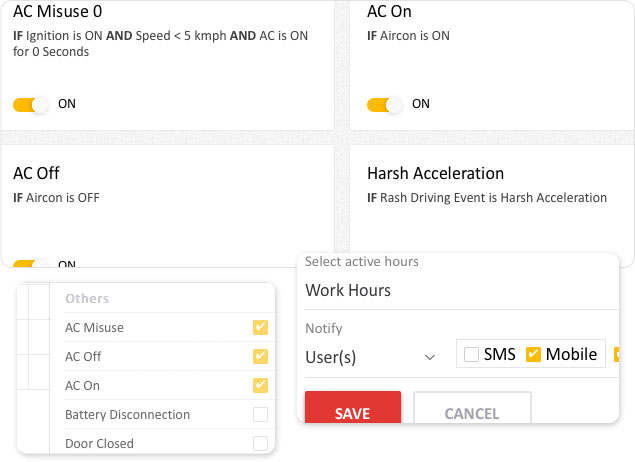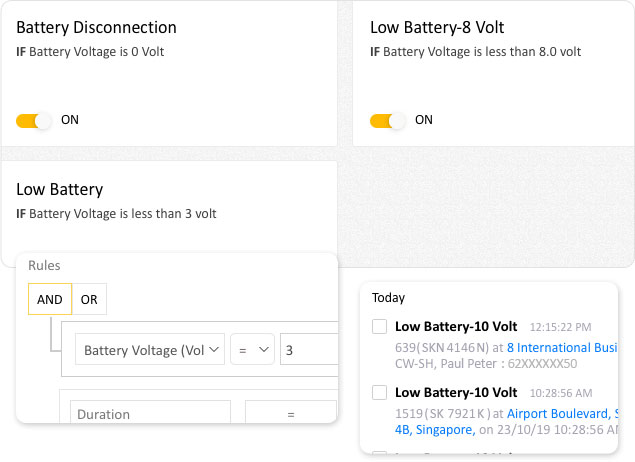 Battery Disconnection Alerts
Multiple reasons could keep you aside from receiving timely updates from a GPS tracking device. And these are not something to be ignored, but taken care of immediately.
Application will generate an alert once vehicle Battery voltage becomes Zero.
Alerts on Battery disconnection.
Alerts you by SMS/Mobile notifications, Email and On-screen Pop-up.
Door Opened/Closed Alerts
It's always going to be a temptation for drivers to use company delivery vehicles for unauthorized usages.
If you need a system that has measures that prevent this from happening, AVLView is the answer for you.
Alerts on unauthorised usage;
Alerts on door open/close events;
Alerts based on scheduled days/hours.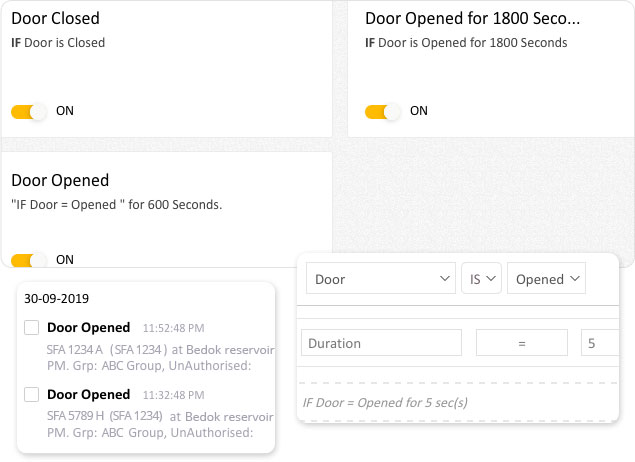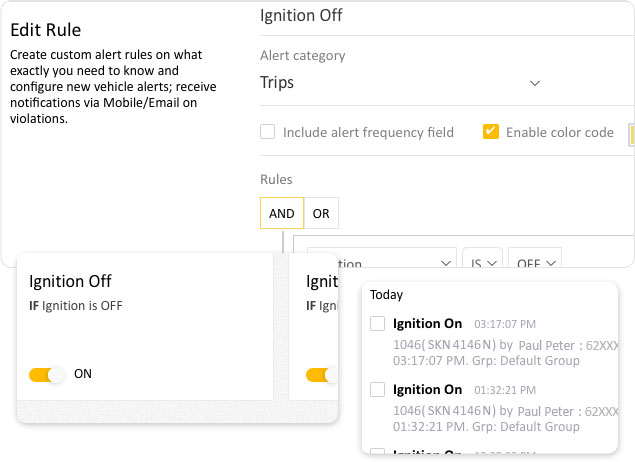 Ignition Alerts
Protect your valuable assets with ignition alerts.
Ignition alerts can be sent to you or anyone you choose, and can be set for throughout the day or scheduled time periods, say from 9.00 pm to 6.00 am.
Alerts based on time;
Alerts when Ignition switched on, switched off or both;
Ignition alerts can be sent to multiple users.
Low Battery Alerts
Multiple reasons could keep you aside from receiving timely updates from a GPS tracking device.
And these are not something to be ignored, but taken care of immediately. A low battery alert may indicate your battery health.
Alerts on Low battery;
Alerts you by SMS/Mobile notifications, Email and On-screen Pop-up.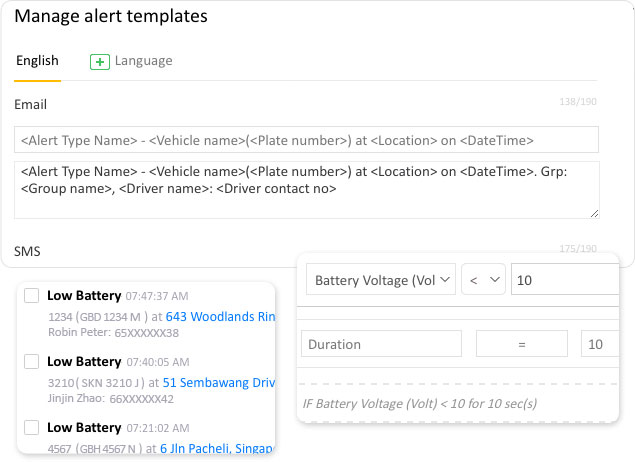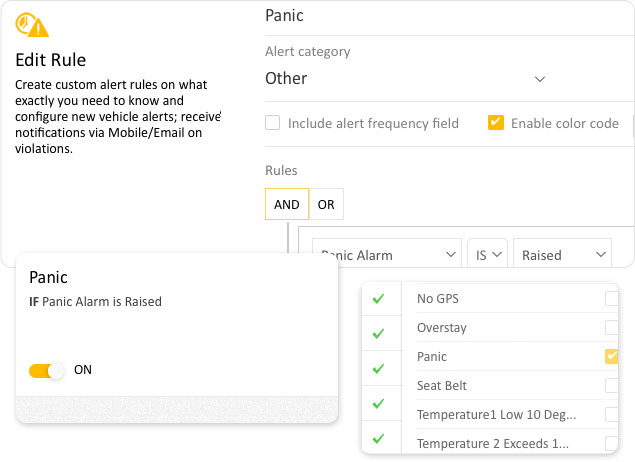 Panic Alerts
Easiest and fastest way to alert you on an Emergency situation. When ever the Panic button is pressed, alerts are generated by application
Receive alerts via SMS/Mobile notifications, Email or Pop-up;
Be informed of Vehicle number, Location Date and Time.
Seat belt Alerts
Driver safety is the single most pressing problem in commercial fleet management.
Accidents are an unfortunate part of fleet operation that keep on happening despite the basic safety policies you implement.
However, using GPS vehicle tracking system with added safety measures help prevent accidents before they occur.
Whether or not a driver regularly wears a seat belt reflects on his/her driving behaviour and commitment to safety.
Alerts you when driver seatbelt is not worn.
Alerts you on Location and time.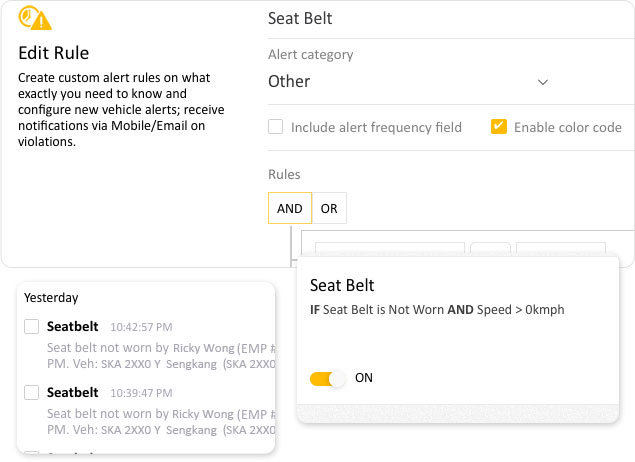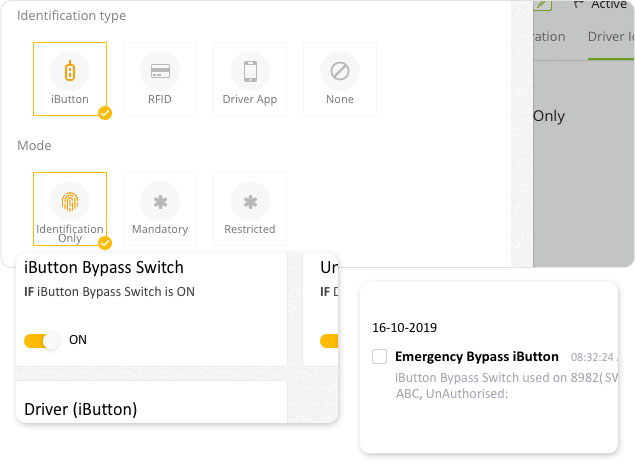 Unauthorised iButton
Rash driving alerts help you identify vehicles that goes through reckless and irresponsible driving practices.
But to clean up the mess, you need to know who's driving which vehicle and if unauthorized drivers are trying to start the vehicle.
Unauthorized iButton;
iButton bypass switch;
Driver (iButton).
No GPS Alerts
Out of the 24 GPS satellites, you need at least 4 satellites to get precise location of vehicles/assets and mostly you would be within the coverage of 7-18 satellites.
Occasionally, there are cases where the satellite count goes down depending on terrain layers and weather conditions. Application alerts on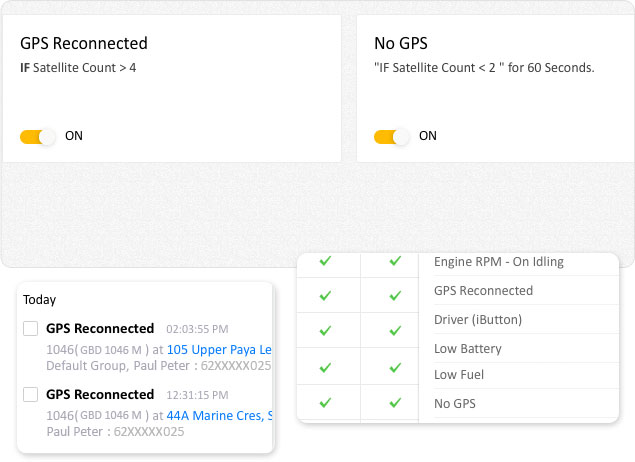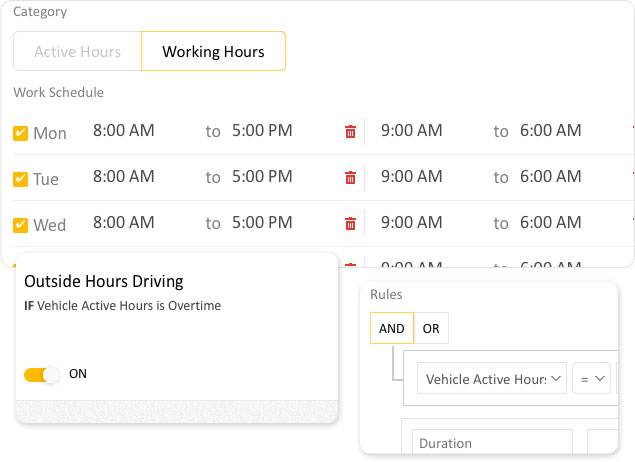 Outside Hours Driving
Keeping a track of the vehicles during out of office hours is a big concern. We have a solution for you,
Set your office hours in application;
Create notifications for Out of Office hours;
Receive alert on vehicle usage during out of office hours.
Overstay
You know the value of time for your clients, but scheduling and delivering on time may not be the priorities on your driver's' mind.
Receive immediate notifications if your driver stops for longer than a specified time period. Control excessive stopping and avoid late deliveries.
End of the day, your success lies in delivering things on time and winning repeat contracts.
Can either be set for any location or specific Points of Interest (PoI's);
Set alert frequency to limit notifications flooding through;
Set alerts based on working days/hours.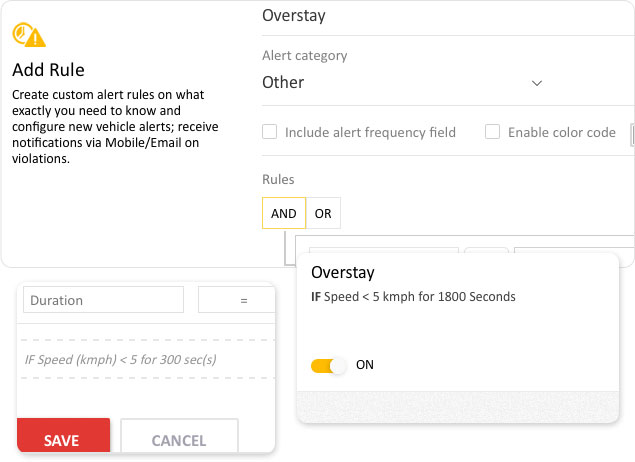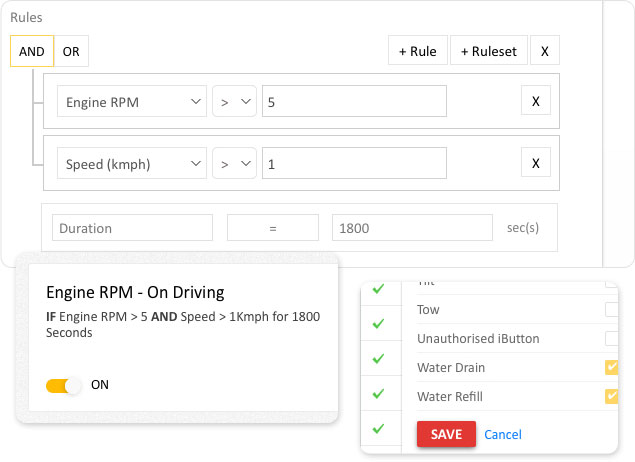 Other Alerts
Apart from above mentioned alerts, you do have the option to set notifications for other instances/events viz..
Water Refill/Drain;
Load/unload (for vehicles with load sensor);
Continuous driving;
Daily Driving limit;
Engine RPM on Driving/Free Wheeling/Idling;
Engine Temperature;
Harsh Braking/Acceleration/Cornering;
Regain control with Live GPS vehicle tracking!
Sign up for a trial account today.