School admins testify that placing a

GPS device on school buses improved safety..

As many as 47 people were injured – two seriously and many of them school kids – when two school buses and a public transport bus collided in Abu Dhabi on September 29, 2016.


Citizens watched in horror as every parent's worse nightmare played out. Images of a school buses damaged on its side haunted news media for days. It showed significant damage to the front of one bus and the rear of second yellow vehicle.

A majority of those injured were children. The crash happened on the northbound carriageway of Khaleej Al Arabi, after the Mussafah Bridge.

Brigadier Ali Khalfan Al Dhaheri, Director General of Central Operations at Abu Dhabi Police, United Arab Emirates (UAE) blamed the crash on driver inattention, speeding, and the two vehicles driving too close to each other.

Even more disturbing, was the fact that the bus driver was driving too fast for the posted limit on the wrong route at the time of the accident. In fact, he'd had another minor accident earlier that month. This has brought school bus safety to the forefront of parents' conversations.

Similar accidents involving school buses happened recently in Chandigarh, India and in Jubail, Saudi Arabia too.

One way that might help to avoid accidents such as these in the future is school bus tracking. Using a GPS tracker in a school bus offers a variety of benefits and advantages for the school system, children and parents of children who ride the bus.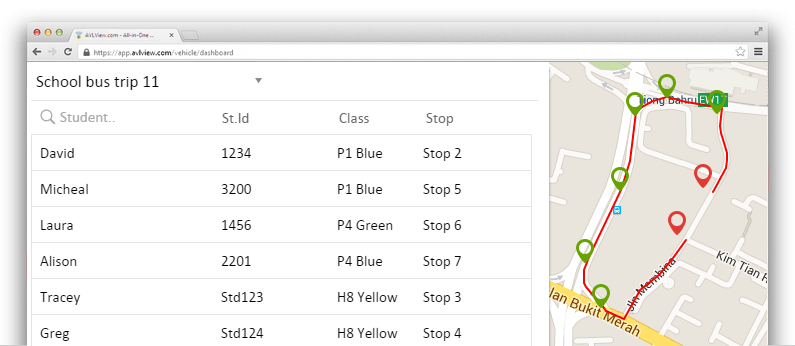 phone
Call
+91 98957 02862 (India)
+65 6742 5523 (Singapore)
+966 504 202 493 (Riyadh)
+230 467 2323 (Mauritius)
+971 551 259 887 (UAE)
+974 7703 6953 (Qatar)
+254 724 173 453 (Kenya)
+60 123 661 202 (Malaysia)
arrow_drop_down
+91 98957 02862 (India)

+65 6742 5523 (Singapore)

+966 504 202 493 (Riyadh)

+966 505 559 278 (Jeddah)

+966 555 044 365 (Dammam)

+230 467 2323 (Mauritius)

+971 552 005 851 (UAE)

+974 7703 6953 (Qatar)

+254 724 173 453 (Kenya)

+60 123 661 202 (Malaysia)
OR
In addition to helping a school system make the most of route efficiency and gas mileage, a GPS tracking system can help with student safety from monitoring the speed of the school bus to tracking when and where a student gets on and off the bus.
Here are some of the biggest advantages and benefits of school bus tracking.
Ensure Safety of Students
Parents send their children off to school on the bus and wait for them to return at the end of the day. When you ask a parent what time the bus drops their child off at home, they typically give a range of times.
With school bus tracking, both the parents and the school system can see where the bus is at any given moment and get an estimate as to when the bus will arrive at a stop. This is easily tracked using an iOs or Android app that parents can download to their smartphones and check at their leisure.
One benefit is that parents can make sure that they are always there when the bus arrives to pick up their child. This lowers the chances of a child abduction.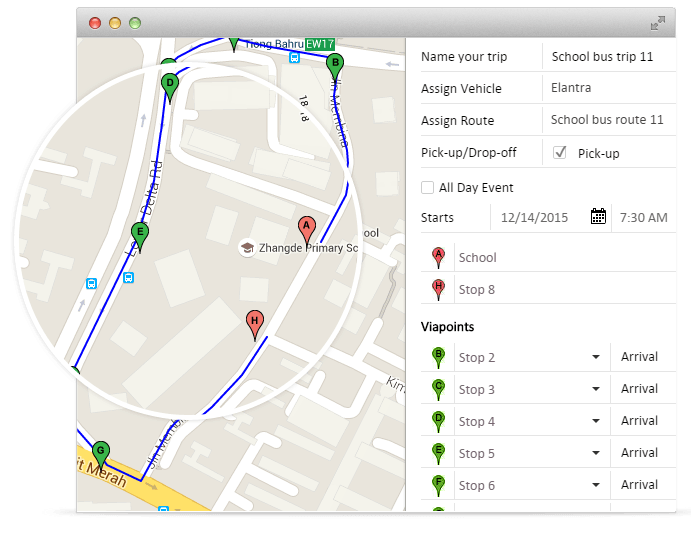 Sometimes, the bus runs ahead of schedule, especially if some children aren't on the bus that day and certain stops aren't needed.
When parents can check the estimated time of arrival of the bus at their child's stop, they can adjust their schedule to be there whether the bus is early, on time or late.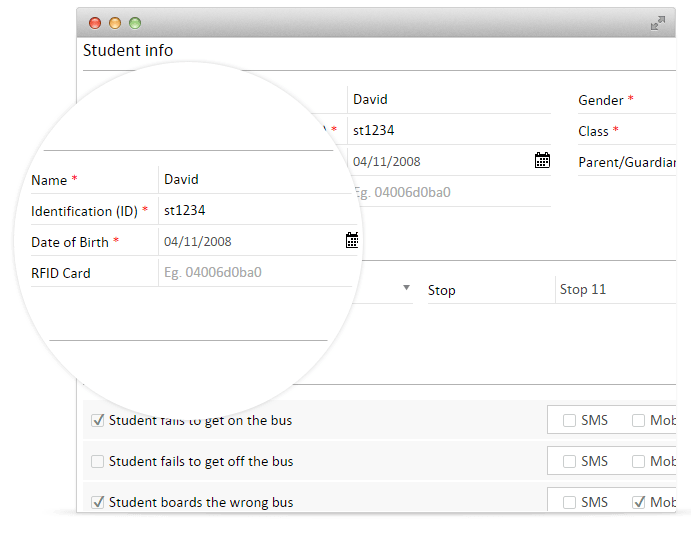 Immediate Notification of Changes
GPS school bus tracking can be set up by the school and individual parents to notify them of any changes to their child's routine.
For instance, the child swipes the RFID device when they get on the bus and again when they get off the bus so that the school and parent can know exactly which bus the child boarded and the stop that the child got off at. This lets the parents know that the child is safe and on the correct bus.
The RFID system can also be setup to send an immediate message to the parent and school of any unusual activity.
These messages can include: a message when the child gets on the wrong bus, doesn't get on the bus or gets off the bus at the wrong stop. This helps the child's parents understand that there is a problem in real time and make the necessary arrangements to correct it.
It allows parents to make sure that their child isn't at a bus stop alone and scared for very long since they know where the child was dropped off and can go there quickly to pick them up.This helps to keep each child safe.
The system can also notify parents right before the bus arrives for pickup in the morning and drop off in the afternoon. This helps parents and students avoid missing a bus that is a few minutes early or avoid standing outside in cold or rainy weather when the bus is running late.
The text or email arrives that the bus is almost at the child's stop, and the parent ushers the child to the stop as the bus arrives, providing the most convenience and safety possible.
In some cases, a parent may want all or just a few of these notifications. The system is designed to allow each parent to set up exactly the notifications that they want and how to receive them.
The options for receipt include push notification, email, SMS or a combination of the three.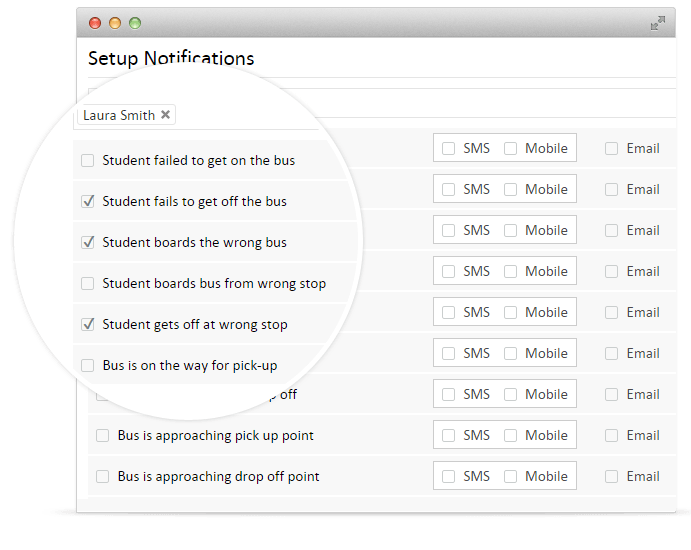 In this way, they pay more attention to notifications instead of just glancing at them because they receive constant information.
Here are some of the notifications that parents can opt in on for immediate texts or email when it happens:
Child boards an incorrect bus
Child has been picked up safely
Child has been dropped off safely
Bus is close to the pickup location
Bus is close to the drop-off location
Student doesn't board the bus
Student doesn't get off the bus
Bus is coming for drop-off
Child gets off at a different stop
In most cases, there's a simple explanation for why a child got off at the wrong stop or missed the bus, such as a visit to a friend's house or a tuition centre. However, if there isn't a simple explanation, this system allows parents, school officials and local authorities to spring into action immediately to protect the child and keep them safe from harm and strangers.
Safety and Driver Evaluations
For the schools, the bus tracking system helps them make good, informed decisions about drivers and routes. The system helps the school district set up routes that make the most sense based on time and fuel consumption.
This feature helps the school system save money that can be used in the schools for better teachers, teaching materials and supplies.
It can also help pinpoint unsafe or borderline bus drivers. The school system can set up a notification system for a driver who exceeds the speed limit, brakes too hard, takes a corner too sharply or accelerates too quickly.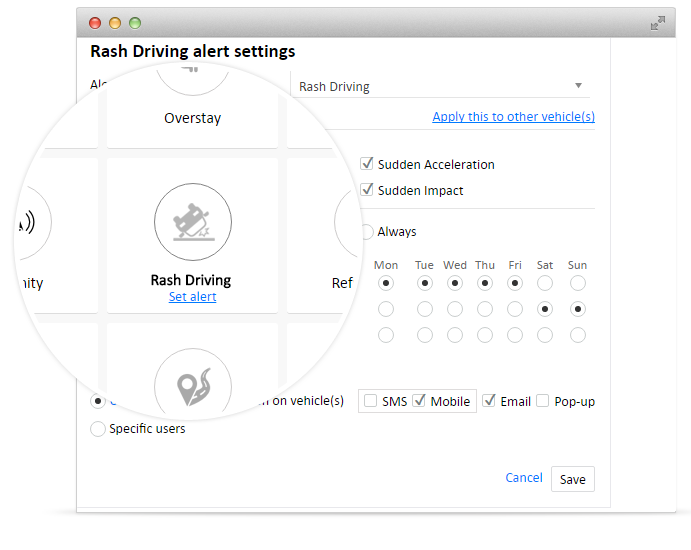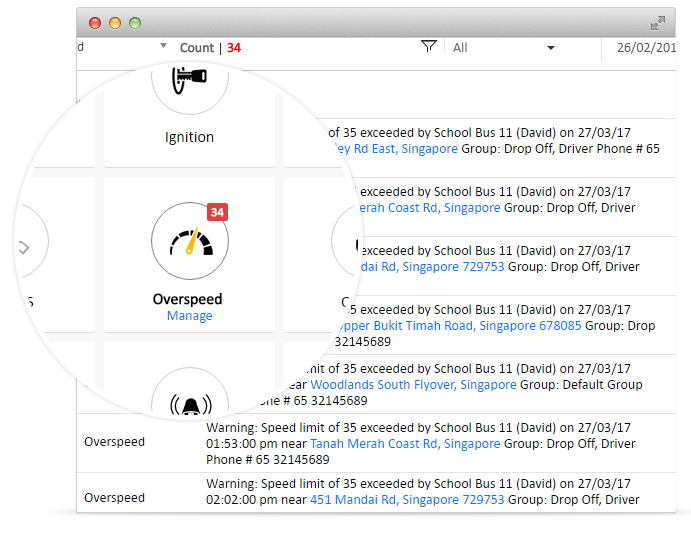 Of course, there are times when a driver needs to brake suddenly or accelerate quickly, but this notifies the school system each time so that they can identify any problem drivers and replace them before a tragic accident occurs.
Once again, the school bus tracking makes it easy for the school system to choose which notifications to receive and how to receive them. It also allows school officials to reassure parents that their children are as safe as possible each time that they board the bus.
This level of trust between parents and the school system can aid in other areas of education.
At AVLView, we know what is at stake when you're in charge of moving hundreds of children safely around town to and from the schools.
As a telematics company, it's our goal to make it easier to keep students safer and both the parents and school system informed of essential information.
In addition to safety issues, we can help school systems maximize efficiency on school routes and save money on fuel and, wear and tear on the bus.
Contact us today to learn more about our school bus tracking system or to start putting a program in place.