The ultimate white label vehicle tracking software.
A white label vehicle tracking platform is a brandable fleet management software developed for vehicle tracking service providers looking to scale.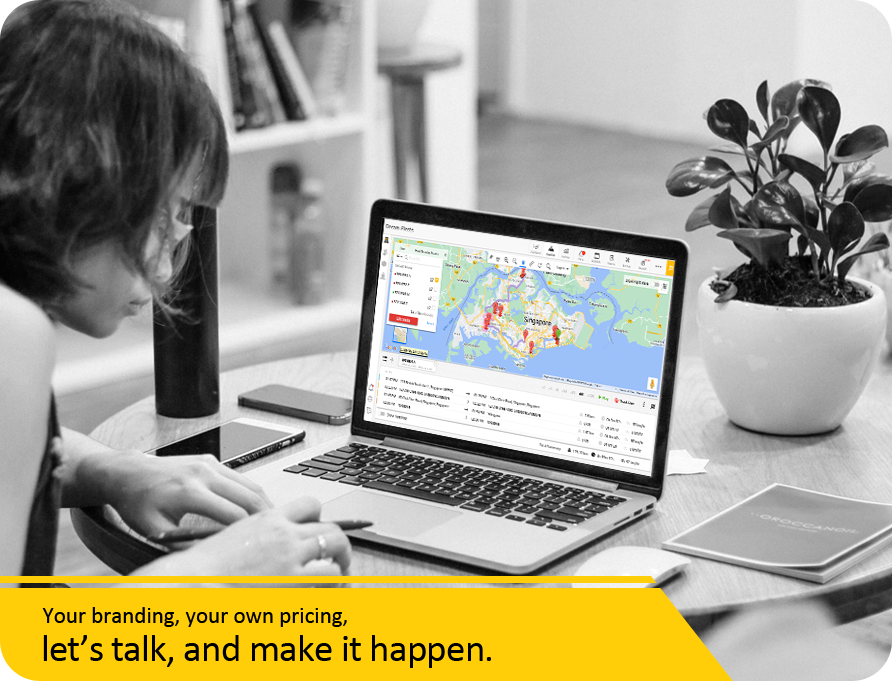 Fig 1. Brand it as your own
If you are considering white label vehicle tracking platform for your business, here are a few things to consider:
The whitelabel tracking platform should be brandable, easy to use, have a good interface, be highly scalable, and help automate your business processes. For example: sending branded messages such as email newsletters, subscription renewal notices, and payment reminders.
That's why we built AVLView—our white-label vehicle tracking platform.
It is designed and built by us—AVLView, GPS software company, re-brandable for a vehicle tracking service provider (your company) who offers branded software as a service (SaaS) to help fleet owners (to streamline fleet management) as part of (your) product line.
Partners can use the administration panel to manage clients more efficiently, troubleshoot issues proactively, and analyse data in order to make better decisions.
Furthermore, you can appoint sub-dealers to sell your service under any brand they choose.
Here's how our white label vehicle tracking platform can help you grow your business.
Your branded software platform
To stand out among your competitors, you must ensure that every part of your tracking business – from the design of your login page to the alerts notifications you send to customers– is tailored to your brand for maximum effect.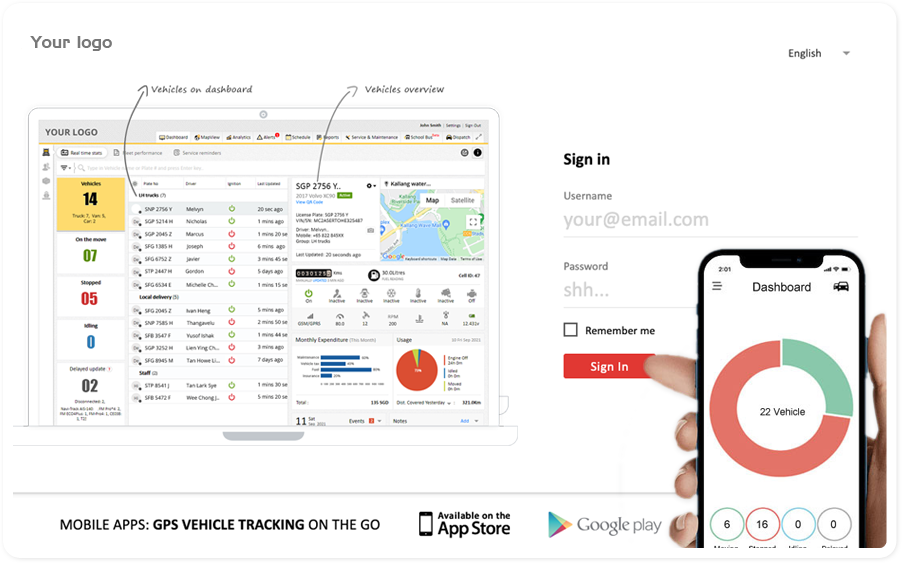 Fig 2. Your logo, your brand & your domain
As a white label vehicle tracking platform, we take care of all the branding and technical aspects of your GPS tracking system while you focus on running your business—it's like having your in-house team without the hassle.
Our powerful backend makes it easy for you to manage clients, subscriptions, billing and integration; monitor account activities; run reports; and generate revenue by reselling it to your customer base!
Partnering with us means that you have a full-blown fleet automation platform in your brand hosted by us. With your own branded platform, you can provide your customers with the best-in-class vehicle tracking services.
Your branded web application can be accessed via.,
https://app.yourdomain.com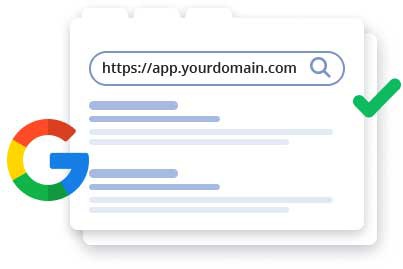 Fig 3. Custom domain
We use CNAME record resources (rather than iFrame, which is vulnerable to cross-site attacks) to set your own domain/subdomain. Your platform will not have our company's name mentioned anywhere on it—the hosting page or URL included.
Since the server-client communications are protected with highly secure wild card, multi-domain SSL certificates, you can provide your customers with tenant-specific subdomains so that your client, M/s ABC Logistics, can access the platform.
https://abc.yourdomain.com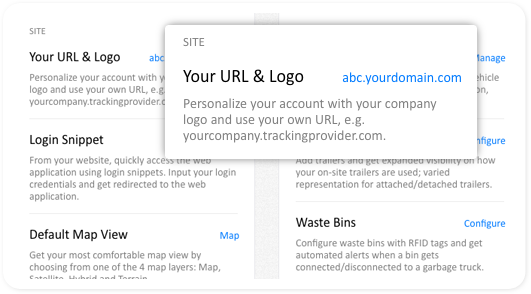 Fig 4. Custom subdomain
In addition, login snippets available on the configuration page enable your customers to alter their login pages to suit their branding.
Summed up, it is a custom branding solution that doesn't require you or your customers to know how to code.
Beautiful, intuitive user interface (UI)
Most fleet management software is cumbersome and challenging to use. Fleet owners often complain that the software they use to manage their fleet is hard to learn.
Our software design is about balancing simplicity and usefulness.
We developed the platform as a balancing act, where we strive for intuitive simplicity –not needless complexity.
Here's our dashboard design: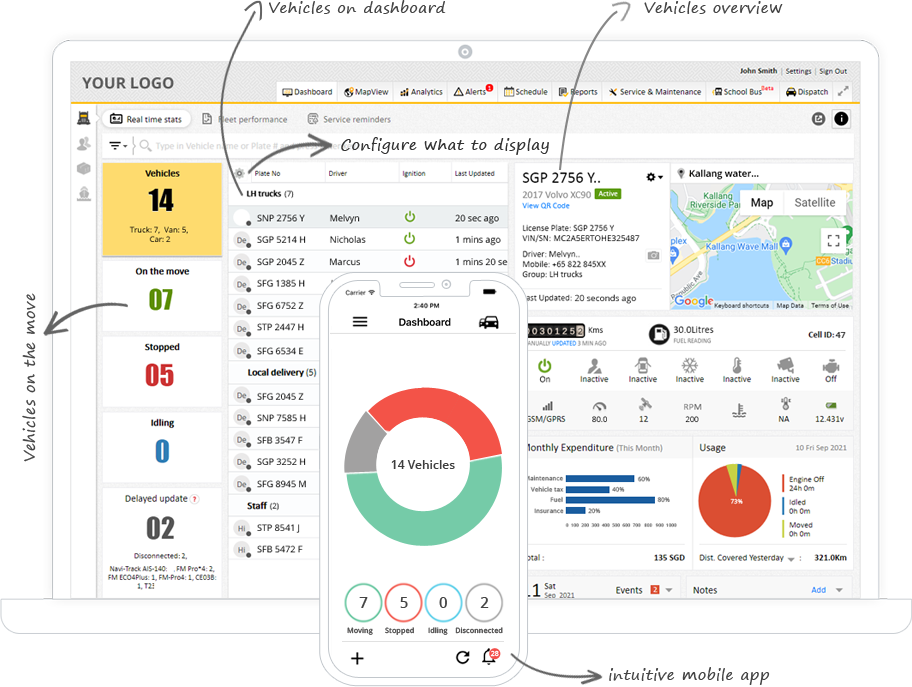 Fig 5. Fleet management dashboard
Our goal here is to present fleet owners with actionable data in a unique and powerful way so they can make the best decisions based on relevant metrics.
It is intuitively designed to present fleet data in a quick, easy-to-scan format with the most relevant information understandable at a glance and with an easily navigable layout.
All other pages on the site are developed with the same thoughtful approach.
Benefits trump features
Feature creep occurs when too many new features are added to a product, which can derail its overall goal.
We identified how our product helps customers achieve their goals and considered how to present these features most effectively.
It is quite common for fleet managers to add points of interest (e.g., supermarkets, repair shops) manually regularly; however, this process is extremely time-consuming and laborious.
Now imagine this:
The software prompts the staff with a list of points of interest based on stoppage, duration, and time-of-day criteria.
Staff members can name the PoI—for example, "warehouse" or "store"—and add these to the map with a click of a button. This saves tons of time for busy fleet managers!
Here's another one:
The companies that provide GPS tracking services grudgingly attend to customers' frequent calls for support. Usually, the vehicle is missing from the software—you have to drill down into every part of it in order to find out where it is.
What do you do if you get a support call vehicle not showing its live location on the map?
It takes time to check the device's IMEI number, find out when your server last received data from it (and processed that information), and determine whether or not the user has a valid subscription.
What if a diagnostic tool could do the heavy lifting?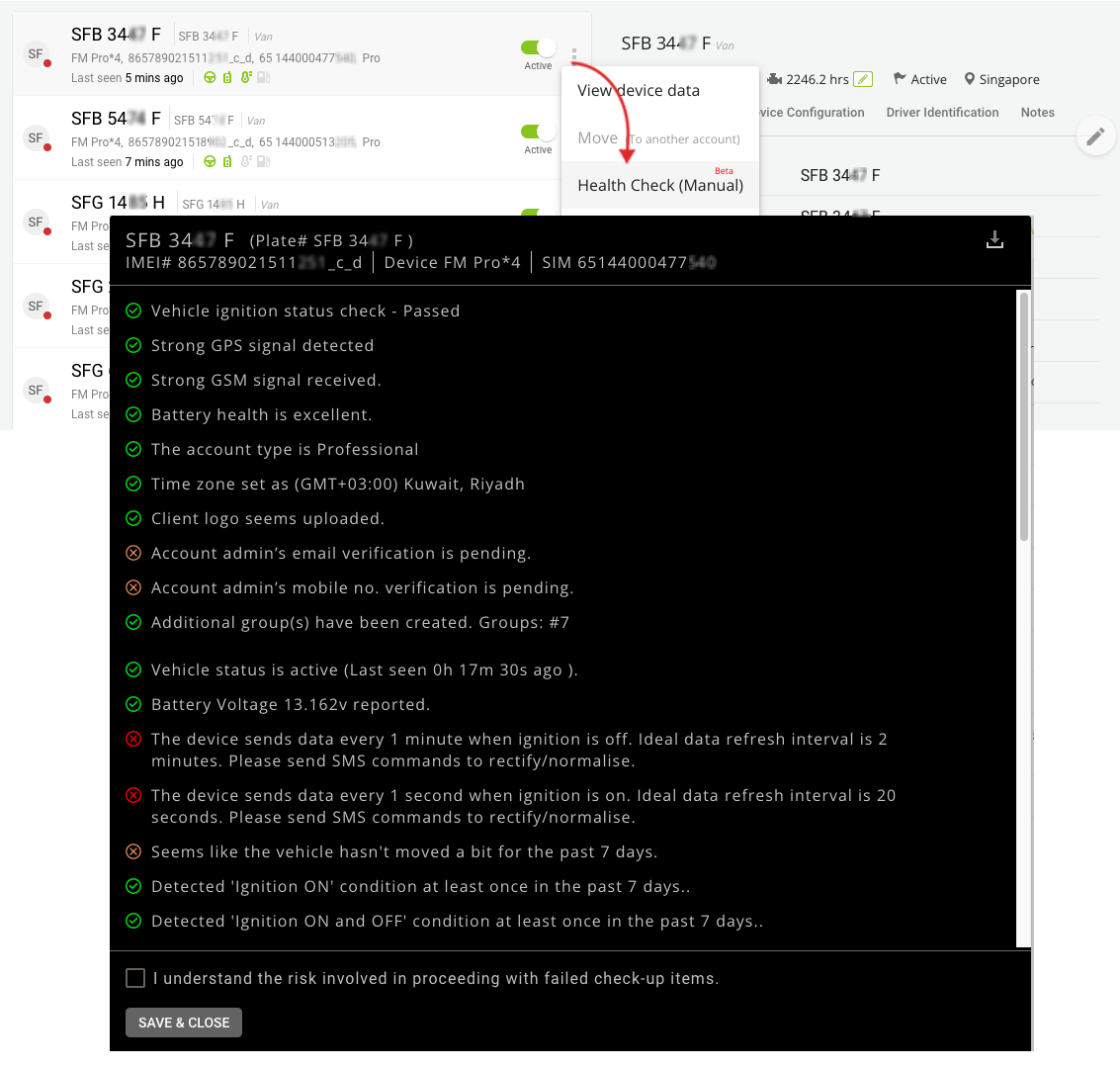 Fig 6. Vehicle diagnostic tool
With the diagnostic tool, all you need to do is enter your vehicle plate number; the tool will then display a series of meaningful data—it finds out what issue there might be.
Your branded platform will do this and more.
Scaling to 1000's of vehicles
When you're a GPS tracking service provider, it's important to be able to scale quickly.
Start prioritising it from the start to save money, improve user experience and increase agility.
And scalability is AVLView's core benefit; it can scale on demand, letting you add as many vehicles as you want.
It uses a NoSQL (non-relational) database to build its core data store and unified tracking engine for large-scale data processing and analysis.
In addition, its sleek and simple user interface masks the complex nature of fleet management processes.
Be it a single vehicle or 1000+ vehicles, you will not experience slowness or instability using AVLView.
Business process automation
Running a business involves many operations. You need to handle support calls from clients, reach out and renew subscriptions when they are set to expire—all important parts of the running process.
The problem is these processes are repetitive, time-consuming and can often be error-prone. What do you do if you need to take care of a thousand different things at once and do it efficiently? You automate!
Your branded platform will handle some processes, freeing you to do others.
For example :
A customer's software subscription is set to expire in 30 days. The system will automatically generate a quote and begin to send reminder emails 30, 14, 7 days and 1 day before the expiry, prompting the subscriber to pay the dues online.
In addition, you will also receive a daily list of all accounts that are about to expire or have already expired.
Subscribers are reminded about expiring subscriptions by a pop-up that appears on login, giving them the option to pay online.
You can integrate your account with Stripe to securely handle customer payments.
And the platform provides APIs that make it easier for your customers to integrate their existing business systems with your platform.
Good support
When you partner with a cloud-based white label fleet management provider, your customers experience the software through your brand. Your provider's name doesn't appear anywhere on the platform—only yours does.
Because you don't specialize in IT support, your company may not be able to offer high-level technical support.
Here's how we differ:
We provide Level 3 global IT support and services to our partners to ensure that no matter what happens anywhere, we are able to assist with quick remedies or upgrades.
The crazy part is we even integrated an AI chatbot to help customers get quick answers.
For example– if an account sub-user cannot log in, the fleet manager can chat with the AI bot to get answers.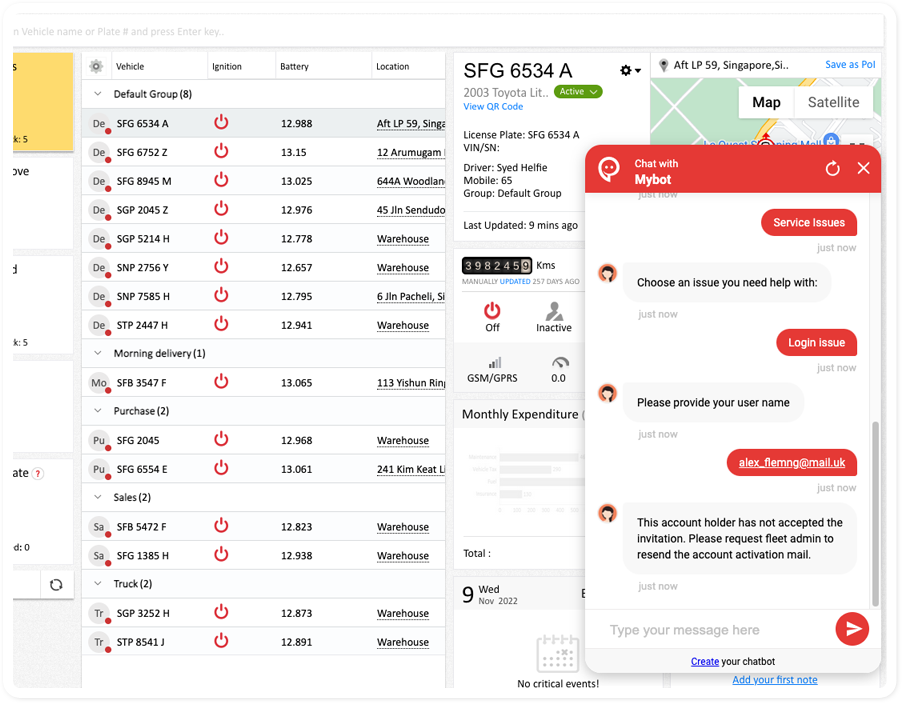 Fig. 8 Checking login issue
The chatbot will use natural language processing to understand what the customer is asking for and then guide them through finding the information they need.
The bot would automatically start a series of processes—identifying underlying issues and offering remedies—to respond with solutions.
This is a great example of how we help our customers. We are always looking for ways to improve our service and make it easier for partners and customers alike.
Supported GPS devices
It is important to look for fleet management software that does not rely on a specific type of hardware.
We've created software that works with most GPS tracking devices available today.
Fully integrating your GPS device into our system is no problem. We've already integrated hundreds of devices onto our platform—check out the list here. So you can rest assured that whatever GPS tracking hardware you choose for use with us will be compatible.
Customizing the software platform
To meet your customer's expectations, it is important to understand what they need and want. When you hear that a feature might help solve an issue for them, solicit their feedback on whether or not the addition should be made.
You should deliver what you promise fleet owners; after all, they use your platform to get things done—and fast.
We understand that different industries have unique needs, so if a requested feature can be implemented to benefit our customers, we're happy to deliver it free of charge.
We regularly release updates to the software and keep our partners up-to-date about new software releases. You can find them under the What's new & Partner updates sections.
And if you want low pricing? We've got that covered too!
Your customers don't see the price you pay us—they see the price you charge them.
By joining our white label partner program, you'll enjoy all of the benefits that we offer.
Become white label vehicle tracking reseller!
Let's work together to help vehicle owners automate their logistic operations.