A vehicle tracking GPS system combines a satellite-based positioning device that collects fleet data with automatic vehicle location (AVL) software to allow you to monitor where your vehicles are, how they're driven and when they stop along their routes.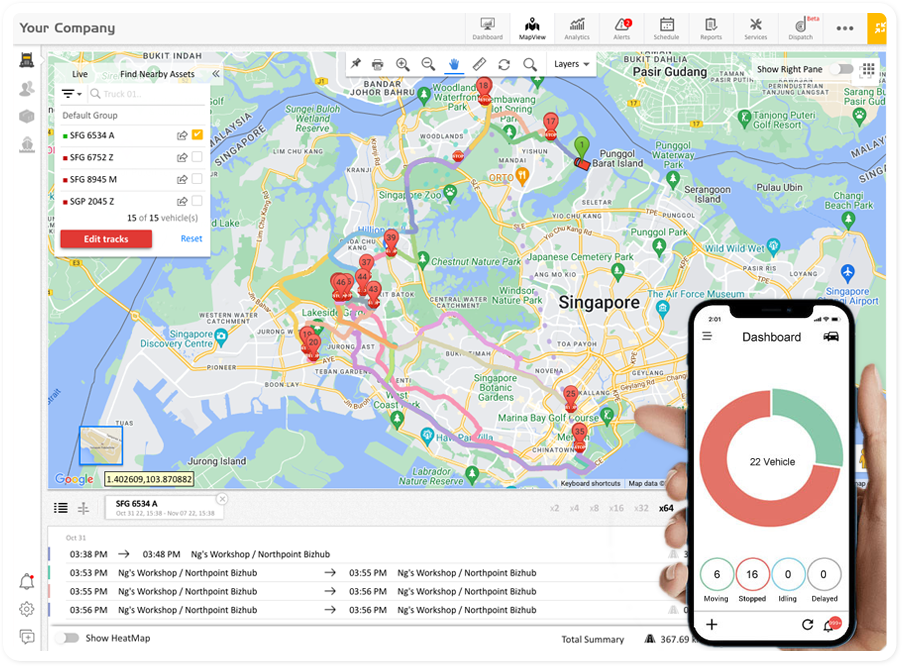 Fig 1. AVLView vehicle tracking system
Vehicle tracking systems generally use GPS, IRNSS or GLONASS to locate vehicles; however, other technologies exist.
What is GPS, IRNSS or GLONASS?
GPS stands for Global Positioning System.
It is a network of satellites that orbit the earth. Currently, 24 satellites act as a network to provide information on GPS receivers' location, speed, time and direction.
The GPS satellite network is maintained by the U.S. Government and has been in operation and available for public use since the early 1990s. The system can support a constellation of up to 30 satellites in orbit.
Further reading: http://en.wikipedia.org/wiki/Global_Positioning_System
A GPS device collects information from applicable satellites based on its current location and then translates it into a three-dimensional grid indicating a particular Earth location.
India uses its satellite system, namely, Indian Regional Navigation Satellite System (IRNSS). It is an autonomous regional satellite navigation system that provides accurate real-time positioning and timing services. Its operational name is NavIC (an acronym for Navigation with Indian Constellation.
Further reading:
https://en.wikipedia.org/wiki/Indian_Regional_Navigation_Satellite_System
GLONASS is a space-based satellite navigation system analogous to the GPS & IRNSS. It was operated by and used by Russian Aerospace Defense Forces until it was made fully available to civilians in 2007. It works alongside GPS (Global Positioning System of USA) to provide location information to compatible GLONASS devices.
Further reading:
https://en.wikipedia.org/wiki/GLONASS
GPS vehicle tracking device
It is a GPS tracking device installed in a vehicle composed of a receiver that takes signals from orbiting satellites and uses them to determine the vehicle's location—and then records its position at regular intervals.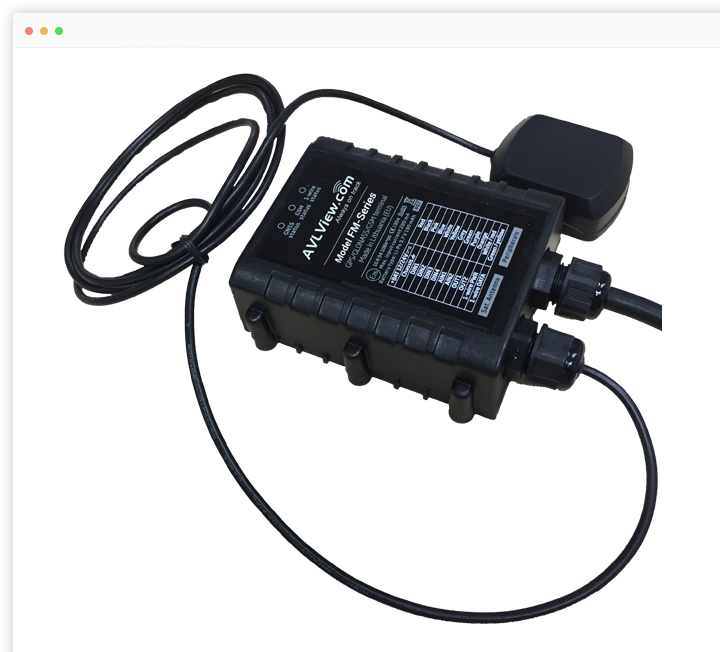 Fig 2. AVLView vehicle tracking device
GPS tracking devices are used in various ways: to track the location of a vehicle over time, to monitor its speed and direction, or to determine its location at a specific time.
These tracking devices can be installed in any vehicle, including cars and trucks, boats and planes. Some models even have features that allow you to remotely control other equipment on your vehicle through an app, such as starting the engine or turning on lights.
It is commonly used to monitor the location of company vehicles and assets and personal vehicles. It can also be used for fleet management and telematics applications, such as providing location information in real time via a dashboard display or mobile application.
The device can be installed in a vehicle on the dashboard or under its hood. It can also be installed outside a vehicle, on a pole or on other stationary objects.
Ruptela devices such as FM-ECO4 plus, FM-PRO4 and FM-TCO4 are compatible with GPS and GLONASS. Teltonika-compatible devices are FM1202, FM5300 and FM5500.
Types of GPS tracking devices
There are two types of GPS vehicle tracking devices: active and passive.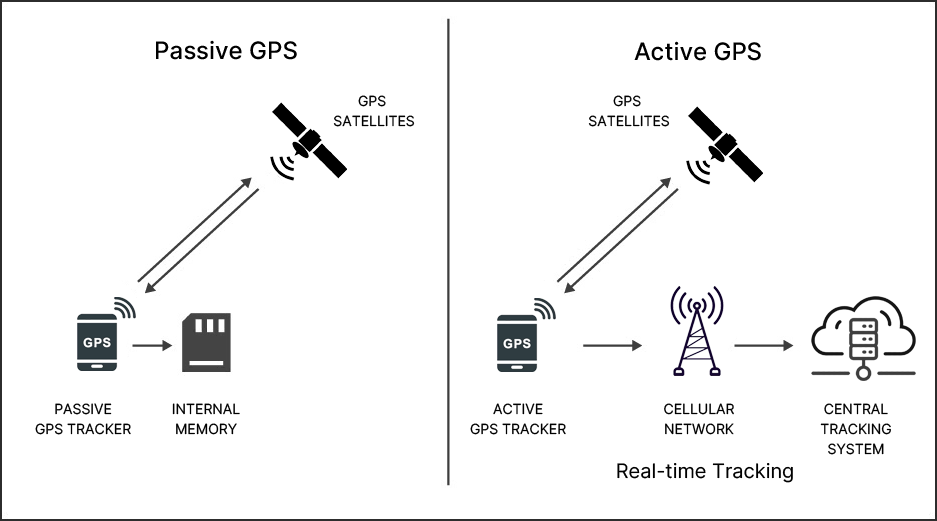 Fig 3. Active & Passive GPS tracking system
The biggest difference between active and passive GPS devices is the real-time ability to send data.
While active GPS devices transmit data immediately to the AVL cloud servers, passive GPS devices record all data points onto a memory which can be retrieved later by connecting to a computer.
The active device is powered by a battery in the vehicle, which allows it to receive signals from satellites so that we can locate it more accurately.
A passive device does not require power from the vehicle's battery but uses a long-duration internal battery.
Active and passive vehicle tracking
Active vehicle tracking and passive vehicle tracking are two different methods of tracking vehicles.
Active vehicle tracking involves the use of a device, typically a GPS tracker, that is installed in the vehicle and sends real-time information about the vehicle's location, speed, and other data to a central server. This information can be accessed by authorized users via a web interface or mobile app.
On the other hand, passive vehicle tracking involves the use of a device that records data about the vehicle's movements, but does not transmit the data in real-time.
Both active vehicle tracking and passive vehicle tracking have their advantages and disadvantages, and the choice of which method to use depends on the specific needs of the user.
Connectivity between GPS tracking devices and the cloud IoT platform
Active GPS devices transmit the location and relevant fleet data to cloud servers via GPRS. A machine-to-machine (M2M) data SIM card is inserted into the device to facilitate that transmission.
GPRS packets containing data from GPS vehicle trackers are received in a secure, low-latency and the low-overhead manner at the control centre.
The backend cloud engine continuously ingests, filters, transforms, and routes data streamed from connected GPS devices. This transformed data is then decoded and displayed on AVLView fleet management software.
It helps fleet managers to take actions based on the displayed data and route it for further processing and analytics.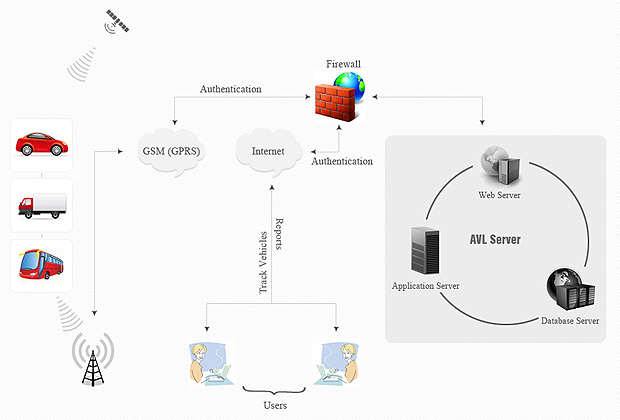 Fig.4 GPS device & Cloud IOT connection
Cloud IoT platform
The cloud platform is a managed Internet of Things (IoT) engine that lets connected GPS devices easily and securely interact with other devices, e.g. RFID, Fuel sensors and AVL software.
The cloud servers are hosted in the Amazon Web Services (AWS) data centre, which is geo-redundant and resilient to natural disasters.
These servers include edge, receivers, no-SQL database, Memcached, mail servers, and archive servers.
The servers have a 99.99% uptime guarantee. They are secured by a rigorous authentication process, including multi-factor authentication requiring users to enter personal identification numbers (PINs), passwords and security questions, and email addresses.
It can securely support thousands of devices and sensors, process millions of data records, and route them to AVL software. The infrastructure can sustain another 1,000,000+ assets and scale vertically and horizontally for increased capacity.
AVL web and mobile app
The AVL web and mobile apps allow fleet managers to view data in a way that makes it easy for them to take action.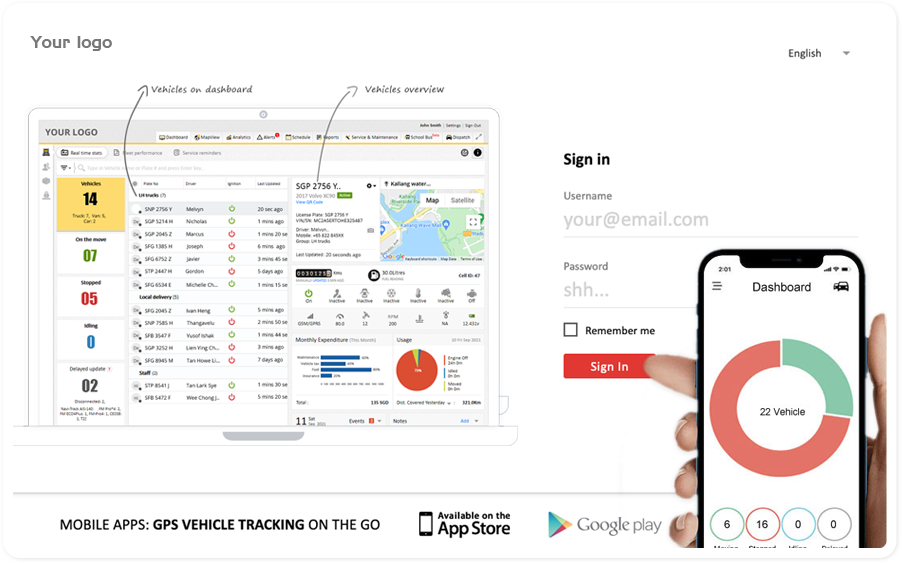 Fig 5. AVL web and mobile app
The web app can be accessed from any desktop or laptop with an internet connection, and the mobile app can run on Android or Apple devices. Both apps are designed for easy navigation and intuitive use.
AVLView app can be used in several different ways. You can use it to find your vehicle in case it gets stolen or damaged or wants to know where it is at any given time.
You can also use it to find out if someone has parked illegally or if they are speeding on the highway. The app will send you a notification when there is an activity with your vehicle so that you can keep an eye on things.
You can also use AVLView GPS tracking for regular scheduling purposes, such as sending alerts when you need fuel or maintenance done on your car before it breaks down completely!
Read more on the AVLView platform features.
Do I need a tracking GPS system?
Control is power, and nothing provides as much value to managers as real-time visibility of their fleet operations and control over their vehicles, in addition to saving time and money.
Tracking with GPS substantially increases company productivity.
It has incredible capabilities to optimise driver output while virtually eliminating idle time with the help of a variety of actionable data. In addition, the ability to streamline driver and dispatch interaction improves communication for any business. In turn, this useful tool helps decrease employees' time between jobs, maximising their work day and increasing bottom lines.
Gain Insight into vehicle and driver Behavior and help businesses regain control.
Business models that rely on time-saving operational and maintenance costs save money. But often, companies ignore actionable vehicle data that can lead to better visibility and control of their fleets. This data, if properly used, could lead to decisions that can reduce fuel consumption, enhance customer satisfaction, and improve the safety of your drivers and vehicles.
Fleet managers can examine their fleet's safety behaviour (such as harsh braking and speeding), easily pinpoint problem areas with AVL software and take corrective actions to minimise safety risks and vehicle depreciation. These actions, if addressed proactively, are proven to dramatically decrease operational and maintenance costs.
Insight into vehicle visibility
24/7 tracking, lesser fuel consumption, improved safety, round-the-clock compliance, filtered key actionable data, increased security, save on maintenance, job management, anytime SMS/mobile alerts, on-time service, every time your fleet's analytics leads to better vehicle use and improved driver response times.
Installing a vehicle tracking GPS unit
The first step is installing a vehicle tracking GPS unit in your vehicle; this unit is placed covertly to keep the device safe, sound and free from intentional damages or natural causes. This tracking unit or receiver captures GPS signals from satellites, and the processor within the device encodes these signals.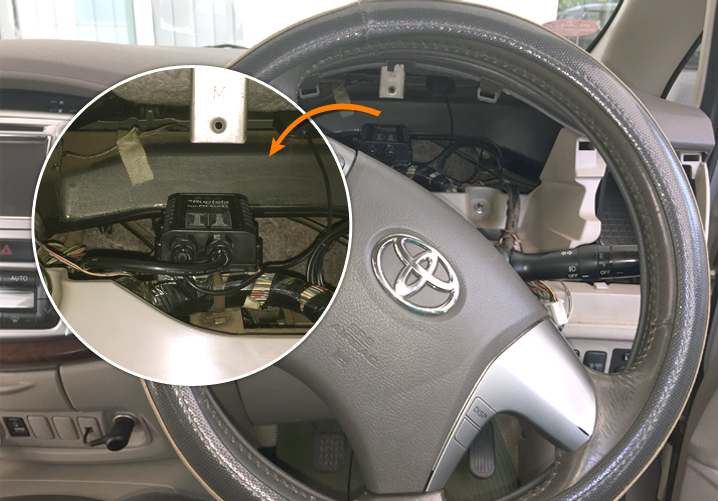 Fig 6. Vehicle tracking unit installation
The receiver can determine various automobile attributes, including speed, mileage, ignition status, door status, idle status and much more information. So all this information and data from GPS satellites are bundled into a single transmission data, encoded, encrypted and transmitted directly to a control centre over GPRS.
Installing a tracking GPS device in your vehicle is not a complicated task, but it is essential to take safety precautions; as such, the installation should only be carried out by a qualified Auto Electrician.
Read more on the Dos & Don't of GPS device installation.
Contact us today to install a GPS tracking device in your vehicle.