A GPS vehicle tracking system combines the use of automatic vehicle location (AVL) in vehicle fitted with a GPS tracking unit that collects fleet data and an AVL software to give you a comprehensive picture of vehicle locations. Vehicle tracking systems commonly use GPS or GLONASS technology for locating the vehicle, but other types of automatic vehicle location technology can also be used.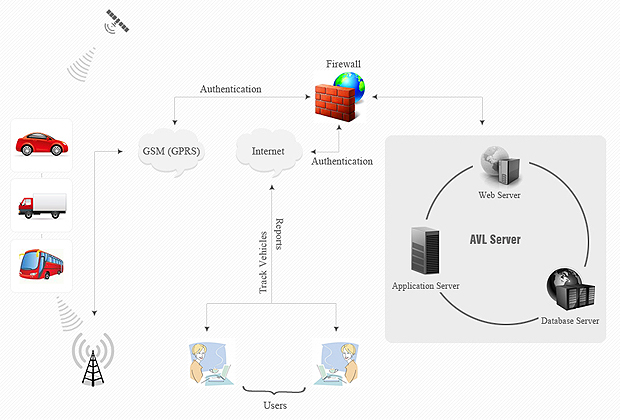 What is GPS or GLONASS?
GPS stands for Global Positioning System. It is a network of satellites that orbit the earth. Currently, 24 satellites act as a network to provide information on location, speed, time and direction of GPS receivers.
The GPS satellite network is maintained by the U.S. Government, and has been in operation and available for public use since the early 1990s. The system can support a constellation of up to 30 satellites in orbit.
Further reading: http://en.wikipedia.org/wiki/Global_Positioning_System
A GPS device collects information from applicable satellites based on its current location and then translates that information into a three-dimensional grid that indicates a particular location on Earth.
While GPS is the most popular and accurate system of its kind, Russia uses a similar system GLObal NAvigation Satellite System (GLONASS) and it was in use by only the Russian military.
GLONASS is a space-based satellite navigation system analogous to the GPS, operated by and in use by Russian Aerospace Defense Forces until it was made fully available to civilians in 2007. It works alongside GPS (Global Positioning System of USA) to provide location information to compatible GLONASS devices.
With an additional 24 satellites to utilize, GLONASS compatible receivers can acquire satellites up to 20% faster than devices that rely on GPS alone.
GPS vehicle tracking unit (VTU)
A GPS vehicle tracking unit (VTU) is a device that uses GPS to determine the precise location of a vehicle or an asset to which it is attached and to record the position of the asset at regular intervals. Ruptela devices such as FM-ECO4 plus, FM-PRO4 and FM-TCO4 are compatible with GPS and GLONASS. Teltonika compatible devices are FM1202, FM5300 and FM5500.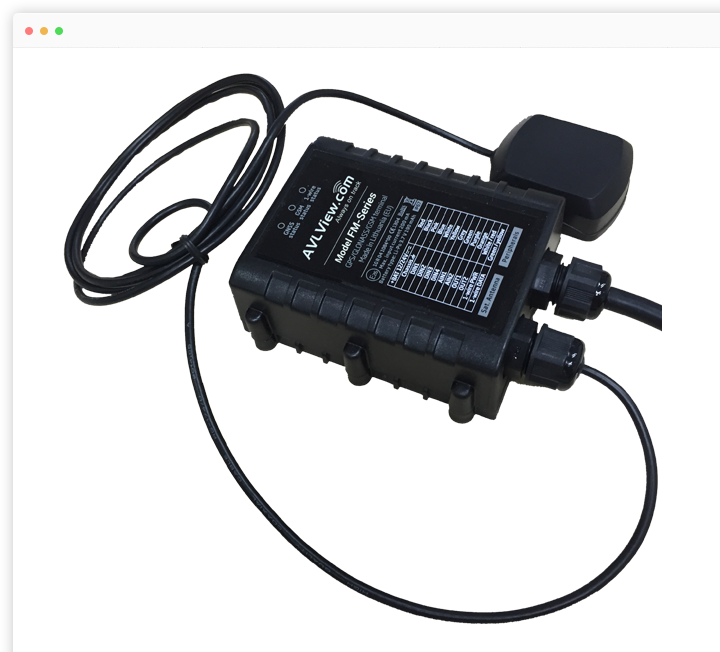 The recorded location data can be stored within the tracking unit, or it may be transmitted to a central location database, or to a computer using a cellular (GPRS).
GPRS facilitates instantaneous connections through which information (as packets of data) can be sent or received immediately as the need arises, depending on the network coverage of providers.
This allows the asset's location to be displayed against a map backdrop either in real-time on map or when analysing the track later, using customized automatic vehicle location (AVL) software for easier understanding of the locations.
Location can be determined even if the objects are in line of sight of less than 4 satellites, but the accuracy of information cannot be guaranteed in such cases.
Connectivity between devices and the cloud Control Centre
The control centre receives the packets of data (over GPRS) sent from GPS vehicle trackers securely, with low latency and with low overhead. The backend cloud engine continuously ingest, filter, transform, and route the data streamed from connected GPS devices. This data is then decoded, decrypted and displayed on AVL fleet management software. It helps fleet managers to take actions based on the data and route it for further processing and analytics.
Control centre is a managed cloud Internet of Things (IoT) engine that let connected GPS devices easily and securely interact with AVL software and other devices. It can support thousands of devices and millions of messages, and can process, route those messages to AVL software and to other devices reliably and securely. It can keep track of and communicate with all your GPS devices, all the time, even when they aren't connected.
AVL software platform
Information from the control centre is sent directly to AVL software (AVLView) that supports essential application services, such as Location Based Services for visually displaying assets geographically and geofences for receiving alerts if a truck ply outside of a given region. AVL software and additional platform capabilities provide the foundation for remote asset management, GPS tracking and mapping, reporting, and M2M data integration.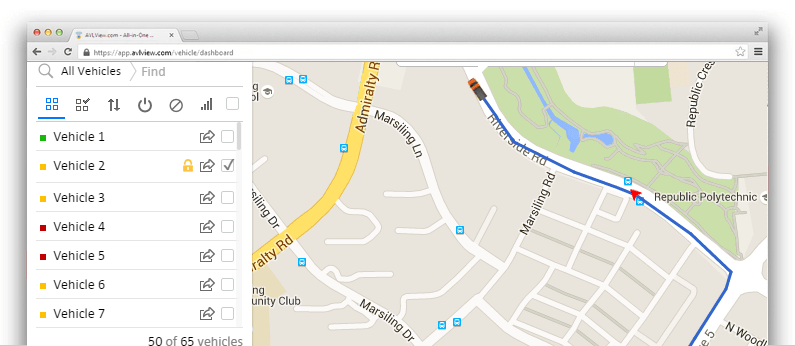 With AVL software, you will be able to:
Easily locate equipment
Deploy fleets and field service teams efficiently
Prevent and detect theft of equipment
Maintain real-time inventory of assets by tracking location
Optimize supply chain by tracking shipments from origin to ultimate destination
Read more on the AVLView platform features.

Why tracking vehicles with GPS or GLONASS?
Control is power, and nothing provides as much value to managers than real-time visibility of their fleet operations and control over their vehicles, in addition to saving time and money.
GPS tracking substantially increases company productivity.
It has incredible capabilities to optimize driver output while virtually eliminating idle time with the help of a variety of actionable data. In addition, the ability to streamline driver and dispatch interaction improves communication for any business. In turn, this useful tool helps decrease the time employees spend between jobs, maximizing their work day and increasing bottom lines.
Gain Insight into vehicle and driver Behavior and help business regain control.
Business models that rely on time-saving operational and maintenance costs save money. But often companies find themselves ignoring actionable vehicle data that can lead to better visibility and control of their fleets. This data if properly used could lead to decisions that can reduce fuel consumption, enhance customer satisfaction, improve safety of your drivers and vehicles.
Fleet managers have the ability to examine their fleet's safety behavior (such as harsh braking and speeding), easily pinpoint problem areas with AVL software and take corrective actions to minimize safety risks and vehicle depreciation. These actions if addressed proactively are proven to dramatically decrease operational and maintenance costs.
Insight into vehicle visibility
24/7 tracking, lesser fuel consumption, improved safety, round the-clock compliance, filtered key actionable data, increased security, save on maintenance, job management, anytime SMS/mobile alerts, on-time service, every time your fleet's analytics leads to better vehicle use and improved driver response times.
Installing a GPS tracking unit
First step of the process is installing a GPS tracking unit in your vehicle, this unit is placed covertly in order to keep the device safe, sound and free from intentional damages or natural causes. This tracking unit or receiver captures GPS signals from satellites and the processor within the device encode these signals.
The receiver has the capability of determining various automobile attributes including speed, mileage, ignition status, doors status, idle status and much more information. So all these information and data from GPS satellites are bundled together to a single transmission data, encoded, encrypted and transmitted directly to a control center over GPRS.
Installing a GPS tracking device in your vehicle is not a complicated task, but it is essential to take safety precautions, as such the installation should only be carried out by a qualified Auto Electrician. Read more on the Do's & Dont's of GPS device installation.