In the following paragraphs we will discuss in detail the Automotive Industry standards 140, commonly known as AIS 140, which is a set of standards formulated for the public transportation system in India.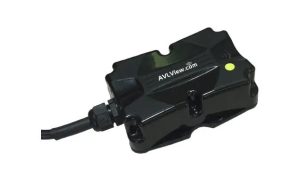 To comply with this standard, all the commercial vehicles should be equipped with a real-time Navic/GPS tracking system along with an emergency button (panic/SOS buzzer).
These standards were implemented as per the order issued by the Automotive Industry Standards Committee (AISC) of Ministry of Road Transport and Highways (MORTH) dated 28th November, 2016. Main objective of implementing this standard is to have total control over the entire public transportation system in India.
Functioning of AIS 140
Control/Monitoring centers
Now that we have seen what AIS 140 is, let's look at its functioning process.
Based on the notification issued by Automotive Industry Standards Committee (AISC) of Ministry of Road Transport and Highways (MORTH), all the states are required to set up command and control/monitoring centers for monitoring the alerts and coordinating with state ERSS for responding to distress calls.
The Vehicle Location Tracking (VLT) device, with emergency/panic buttons mounted in the vehicle, will send the vehicle location, health status, alerts and other data to the monitoring center at a specified periodicity.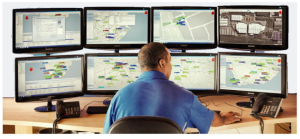 Now, who will be able to access the information? The Transport Department officials; they will be able to access the system and monitor the alerts at the Monitoring Centre. The actionable alerts will be filtered and handled as per the Standard Operating Procedure (SoP) formulated by State/ UT.
These centers provide interface to various stakeholders such as;
State emergency response center
The transport department or Regional Transport Offices
MORTH and its designated agency
Law enforcement agency
VLT device manufacturers and their franchisees, etc.
Panic button
Is n't it great to have a system in place to alert someone during an emergency while travelling in a public transport system?
Just imagine that an unexpected accident happens while you're travelling through a remote area and nobody is there to help you out.
"Panic buttons", an integral part of AIS 140 implementation is a right solution during an emergency situation like this. Panic buttons are intended for the safety of all passengers and drivers who are travelling in a public transportation system.
Passengers or drivers can press the panic button to request emergency assistance from the concerned persons in the control room.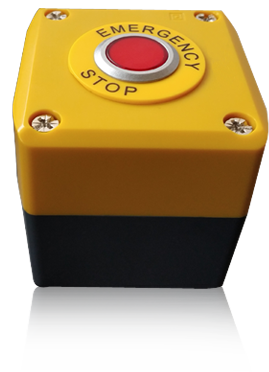 These Panic buttons will have a continuous glowing LED to indicate that the button is working.
Once the panic/emergency button is pressed:
The LED will start blinking and the hooter will generate an alarm sound.
Along with an alarm sound, the device will send an SMS/text message to the control room and the vehicle owner notifying them of an emergency situation.
AIS 140 standard and compliant device list
In the previous paragraphs, we have discussed AIS 140, panic button and its functioning.
Let's now see the specifications to be met to qualify as an AIS 140 device and the list of approved AIS 140 compliant devices.
Specifications to be met for AIS 140 certified tracking devices
As per the mandate in line with the notification from Ministry of Road Transport and Highways (MORTH) dated 28th November 2016, devices should meet below standards to qualify as a AIS 140 GPS device.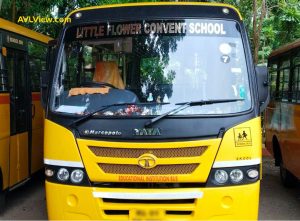 The tracking device to be capable of obtaining real-time location information using Global Navigation Satellite System (GNSS); must include support for GAGAN, Indian satellite-based augmentation system.
GPS device to support 4 digital, 2 analogue and 1 serial communication (RS232) for interfacing external systems or peripherals (e.g. an emergency/panic button – SOS buzzer).
The device should have an internal battery that supports a minimum of 4 hours' backup (considering location update frequency at 60 seconds).
A device has to have the capability to transmit data to a minimum of 2 different IP addresses; one set of data (PVT data) to the first IP address for regulatory purposes and the second IP address exclusively for emergency request systems.
It should be able to transmit position, velocity and time (PVT) data to back-end control Room (State Road Transport Undertakings' servers) using the GSM/GPRS network.
Please click here to read more about the standards/specifications of an AIS 140 certified device.
Devices that are compliant to the AIS 140 standard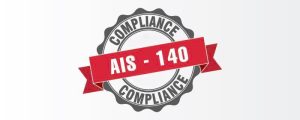 Automotive Research Association of India (ARAI) has certified and published a list of AIS-140 compliant devices.
Following is a list of qualified IRNSS based AIS140 VLT models as of 26/02/2022
Click here to view the complete list of qualified IRNSS based AIS 140 VLT models
AVLView and AIS 140 device
AIS 140 from AVLView
We have discussed enough about specifications of an AIS 140 device and we have a list of approved AIS 140 devices.
In the upcoming paragraphs, we will briefly talk about AVLView, one of the leading GPS and vehicle tracking platform providers.
AVLView is using the latest AIS 140 certified vehicle tracking device as mandated by the government of India.
Devices used by AVLView is of high standards and uses the latest technology to deliver optimum results.
Devices provided by AVLView have enormous features which include:
Advanced hardware design which ensures uninterrupted transmission of instantaneous data
The capability to communicate with multiple IPs simultaneously while handling multi-profile telecom networks using eSIM.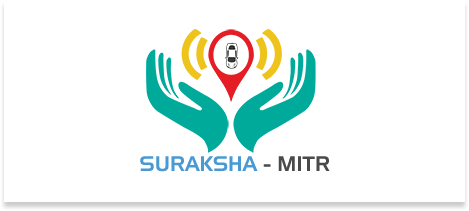 Apart from AIS 140 GPS devices, AVLView platform supports 30+ GPS tracking devices which includes the most advanced european devices.
AVLView platform key features
Some of the key features of AVLView vehicle tracking platform are as follows:
Real Time vehicle monitoring
Ad-hoc fleet reports that suit your requirements
Real time fuel level monitoring
Timely reminders for vehicle service and maintenance
Instant alerts on important events
Schedule trips in advance
Monitor reefer temperature
Fleet data analysis
Driver behavior monitoring
Suraksha Mitr & Vehicle tagging
Suraksha Mitr project
Now let's discuss the Suraksha Mitr project, started under the Nirbhaya scheme, launched by the Motor Vehicle Department.
Suraksha Mitr project is a highly scalable, comprehensive vehicle tracking solution for public transport vehicles, and its main objective is to enhance the safety of passengers in public transport vehicles.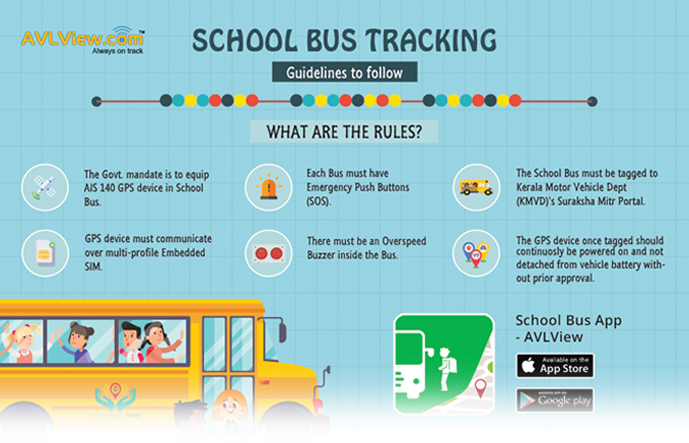 "Suraksha Mitr" developed by C-DAC provides a comprehensive tracking solution for public transport vehicles,
It is compatible with the AIS-140 standards published by MORTH.
Suraksha Mitr is implemented to ensure safety in public transport vehicles in Kerala.
Tagging your vehicle to Suraksha Mitr portal
As per the mandate issued by Kerala motor vehicle department (KMVD), all vehicles fitted with an AIS 140 device should be registered (tagged) on the Suraksha Mitr Portal.
Tagging or registering your vehicle to the Suraksha Mitr portal is a one-time procedure. Once registered, the system will send distress messages to the owner's mobile phone in case of any untoward incident during the journey.

The tagging process can be done by providing the relevant vehicle details and other information as mandated by the motor vehicle department after logging into Suraksha Mitr Portal (https://tracking.keralamvd.gov.in/)
Click here to read more about Suraksha Mitr and the steps to be followed to tag your vehicles to the portal.
Pre-requisites
Keeping the following information handy can also help you ease your tagging process on the Suraksha Mitr portal.
Vehicle Plate #
Chassis #
The RTO where the vehicle is registered
IMEI of the AIS 140 GPS device
GSM numbers assigned to the eSIM (AIS 140 GPS device has an embedded SIM card with two telecom providers)
Mobile number of the vehicle owner
Email address of the vehicle owner
Post-tagging process
Once an AIS 140 certified device is installed in your vehicle and the same is tagged with the Suraksha Mitr portal, vehicle owners will be provided with a temporary installation slip (Tag token). Temporary installation slip generated after successful registration will be valid for 15 days.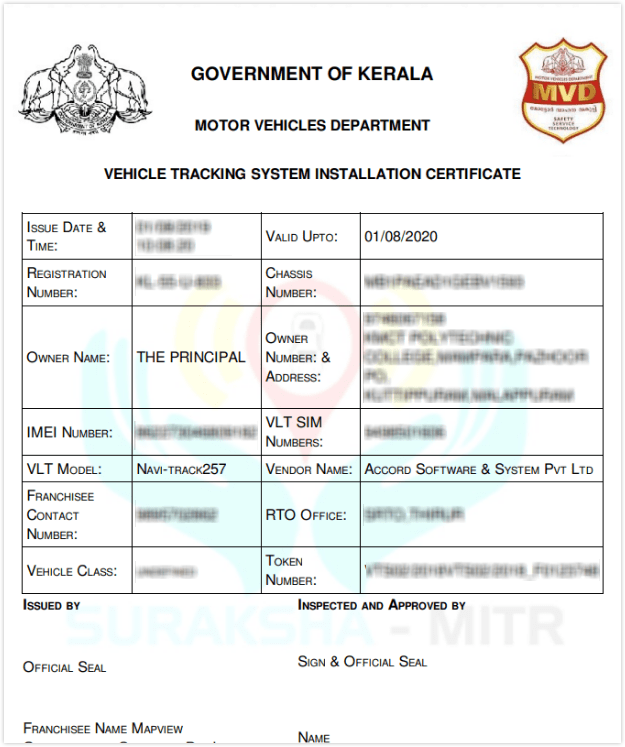 The vehicle owner has to get the installation approved by the Motor Vehicle Inspector (MVI) at the respective regional transport offices (RTO).
Important Note: Failure to comply with these requirements may result in penalties and other punitive measures. Click here to read more about Suraksha Mitr and the steps to be followed to tag your vehicles on the portal.
Mandatory sectors to have AIS 140 devices
List of the sectors/industries
Here is a list of the different sectors/industries that should adopt AIS 140 devices as per the mandate issued by the Government of India:
State Road Transport Corporations
Domestic and Interstate Private Bus Operators
Ambulances and Emergency Response Vehicles
All Educational Institutions
Cars, Bus and Taxi Fleet Owners
Rent-a-Car Services
Taxi Ride Hailing Services
Penalty for non compliance
The deadline given by the Ministry of Road Transport and Highways (MoRTH) for installing AIS 140 devices was March 31, 2019, and failure to comply can result in penalties.
The penalties for not installing AIS 140 devices may vary from state to state.
Some states may also impound the vehicle until the AIS 140 device is installed.
Repeat offenders may face higher penalties, suspension of the vehicle registration, or even cancellation of the vehicle permit.
To conclude, AIS 140 standards are formulated and implemented mainly to ensure the safety of people travelling in public transportation systems.
Features such as GPS tracking, panic button and real time monitoring provides a means for concerned authorities to respond quickly to an emergency situation and ensures safe and reliable public transportation.