Are you battling a bad reliability reputation? Fleet Automation can help
A few broken promises can quickly become a big problem for your business. When you assure a customer you can have goods delivered at a certain time and you don't follow through, it can cause havoc for them and permanently cost you their business.
When you don't have the right tools, it can feel like getting deliveries in on schedule is out of your hands because you can't control all the factors that affect it. With Fleet Automation however, you can bring many of the things that affect your deliveries under your control.

Understanding Your Problems Is The First Step To Fixing Them

You may currently have no idea why your deliveries are taking so much longer than they should. After all you can't be on the road personally supervising every trip, but you can have the next best thing: GPS Tracking as part of a fleet automation system.

With one of our fleet automation packages, you will be able to observe the exact route every vehicle in your fleet is taking when it makes a delivery. You will be able to see how fast your drivers are going, if they are making unauthorized side trips, and you will be able to figure out where you can improve the efficiency of your routes.

Automation Is the Key to A Quick and Efficient Fleet

Once you know what is costing you time on your routes and the behaviors that are affecting the efficiency of your deliveries, our powerful suite of fleet automation tools will help you to make those issues a thing of the past. You will be able to control many parts of your fleet operations like:
Having the Shortest Routes Every Time:
You can rest easy knowing that your drivers will only be taking approved routes, especially if you have set up text and email notifications for vehicles that stray from the approved path.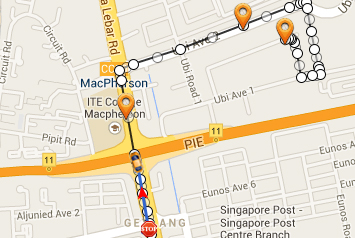 Providing Accurate Delivery Estimates:
You will be able to provide your customers with an accurate time frame for the delivery of their goods, and on the rare occasion a supply vehicle is running late you will be able to inform them right away, but we think you will find that
with fleet automation your deliveries will be early much more often than late
.
Building Reputation as A Reliable Supplier:
The most important benefit you will derive from our fleet automation services is the ability to be a reliable supplier to your customers. You will be able to take pride in getting the goods there when they are needing and the financial benefits that come with that.
If you want to find out more about what fleet automation can do for your company's fleet, then contact us today to develop a personalized solution to your needs.