Take a bow!! Teltonika FM 1202 does almost everything that you usually want a GPS tracking system to do, that too at a reasonable cost. Internal GPS & GSM antennas make it easy for those who wish to covertly track their drivers without their knowledge. Besides, the high sensitivity capability of the receivers enable FM 1202 to have a better reception comparing with devices that comes under the same category/price tag.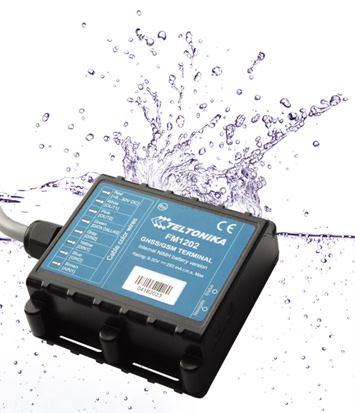 FM 1202, an upgraded version of FM 1200 is blended pretty well for GPS tracking applications that fetch continuous data for real time location updates (even for a 5 sec update interval). With additional inputs & outputs, FM 1202 model makes it easy enough to monitor and control external devices, say for eg., temperature sensors used in reefers of FMCG carriers. This device has a USB port for device status log output & entering configuration. Teltonika FM 1202 is one of the rarest of its kind with a digital input exclusively reserved for ignition status to nullify the negative impact (showing un-occurred idling events) caused by certain GPS devices in the past.






Interface:
1 Digital Input reserved for Ignition status monitoring
2 Digital Inputs
1 Analog Input (10V or 30V range)
2 Digital Open-collector Outputs (connecting external relays, LED, buzzers etc.)
1-Wire® protocol
Power supply (+10…+30)VDC
2 Status LEDs
Configuration and firmware upload (FOTA and via cable)

Ever heard of a GPS tracking device with waterproof housing? Yea, you heard it quite right, Teltonika's FM 1202 is tested and proved IP67 (Ingress protection), which indicates this is a total dust-proof & waterproof device that can survive an immersion level of upto 1m, that's not bad for a GPS tracking device fitted inside vehicles that usually run through the roads, yeah?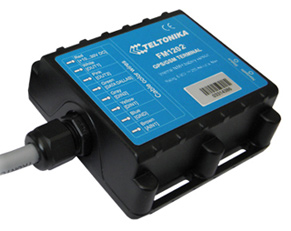 An integrated flash memory of 16MB lets you store up to 100,000 records in case of your vehicle's battery failure, that means even with continuous location updates every minute, FM 1202 can save your location data internally for upto 10 days which makes it a huge bargain at a reasonable cost. Not just that, this GPS tracking device has a built-in battery that works for an extended period of time, if someone disconnects it from the vehicle's power source. Enhanced with a deep sleep mode and advanced motion sensors, this teltonika device keeps an eye on vehicle movement and ignition input, thereby waking up the device and making it active that was in low power consumption mode while the vehicle was stopped/resting.

Teltonika FM 1202 possess integrated scenarios that support:

– Speeding detectors to assure driver/vehicle safety & penalty prevention
– 1 wire protocol for authorized driving (upto 50 iButtons)
– Immobilizer to stop the vehicle remotely in cases of theft attempts

Technical Specs:

GSM:
Quad-band 900/1800 MHz; 850/1900 MHz
GPRS class 10 (up to 85,6 kbps);
SMS (text/data)

GPS:
NMEA, GGA, GGL, GSA, GSV, RMC, VTG protocol compatible
50 channel GPS receiver
-161 dBm sensitivity
One of the major challenges faced by GPS tracking industry is its inability to track the updates once vehicle is parked in an underground parking facility. Chances of GPS signals reaching those points are comparatively lesser than open areas, what if someone tries to break into the vehicle at these locations? No information/alerts would be passed, this is where FM 1202's latest firmware upgrade comes into play, sending high priority I/O events to application hosted servers, even in the absence of GPS signals, which would be received by you as SMS, Email or both. This Teltonika device has the capability to establish communication with servers through GPRS & SMS. Offline data logging facility allows to download acquired data from FM1202 to PC via USB cable (available with FM 1202). This is a huge advantage for those users who are tired of the shocking GPRS bills charged by network operators when on roaming.

Inbuilt GSM & GPS antennas make Teltonika FM 1202 comparatively of a smaller size that offers precise online tracking based on time, distance & angle. It's configurable device behaviour & smart GPRS connection algorithms helps in customizing the data acquisition resulting in GSM/GPRS cost savings.

FM1202 supports a remote diagnostic logs functionality using GPRS that helps in resolving issues quickly by letting the manufacturer read the device logs remotely.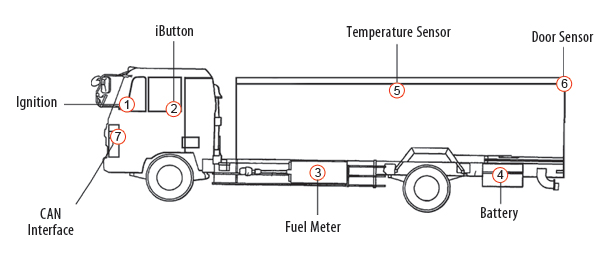 A quick overview on FM 1202- Waterproof GPS/GSM vehicle tracker
Waterproof housing (IP67)
Large Flash memory (16MB)
To store records up to 120 days in case of lost connection or in roaming (minimum update interval = 10min, minimum update distance = 1km and all I/O elements enabled)
Remote logs reading ( For remote issue solving with manufacturer)
Configurable device behavior ( To customize data acquisition and sending for various purposes and GSM cost savings)
Precise online tracking
Under time, distance and corner alteration
Integrated scenarios:

– Advanced overspeeding detection
– Driver identification (1-Wire® iButton ID key -upto 50 iButton keys
– Immobilizer
– Panic Button (SOS buzzer)

Integrated backup battery
Internal GSM antenna
Internal GPS antenna
GPS and I/O data acquisition
Real Time tracking
Smart data acquisition (based on time, distance, angle, ignition and events)
Sending acquired data via GPRS (TCP/IP and UDP/IP protocols)
Smart algorithm of GPRS connections (results in GPRS traffic savings)
Operating in roaming networks (preferred GSM providers list)
Events on I/O detection and sending via GPRS or SMS
Scheduled 24 coordinates SMS sending
5 geofence zones (rectangular or circle)
Deep sleep mode (less power consumption)
FOTA (firmware updating via GPRS)
Motion sensor
Small and easy to mount case
3 operational modes (Home, Roaming, Unknown) based on operator
Features available with FM 1202 in AVLView:
Real time tracking with regular updates in 5-15 seconds
Notification alerts on Overspeed, Overstay, Engine idling, Ignition, Geofences, Route-fences, Spot fences, Park fencing, Panic button, Aircon, Door, Temperature (1 sensor), Harsh driving, Device disconnection etc.
Remote immobilization to stop the vehicle remotely
iButton for driver identification (1 wire protocol)
Vehicle usage analysis
Reports (over 50 types)

If you are a fleet owner looking for a reasonable budget GPS tracking device with powerful features, go for Teltonika FM 1202; you can't get a better deal on this price.