This step-by-step article describes how you can manually configure ECO4+ device by using a configuration tool. Before you begin with the process, you need to install the configuration tool in your computer (Windows).

The configuration tool would then quickly identify the GPS device that is connected to the computer via USB. If not, you may also have to install the Device Driver while connecting the device for the first time.

As a first step, we need to make sure the Ruptela GPS tracking device has the latest firmware. Ruptela releases updated firmware regularly and these updates make sure the GPS device continues to provide excellent results.

Please request support for the new firmware.

1. Update the GPS device with the latest firmware




a. Click Connect (1)

b. Confirm device model (2)

c. Confirm device IMEI number: The IMEI number (15 decimal digits) could be found on the bottom of the device that includes information on the origin, model, and serial number of the device) (3)

d. Click Send FW – Update with the new firmware (4)

e. Select right firmware (5)

f. Click Open to begin the update process (6)

g. Updating Firmware – running status of the update process (7)

2. Add Protocol, APN, IP address/port of the server




a. Select TCP Protocol (8)

b. Enter your Access Point Name (APN) shared by the GSM service provider (9)

c. Enter server IP address, this is the server IP that you want to send the data to (10)

d. Enter server Port number (11)

e. Choose Global Navigation Satellite System (GNSS), you may opt for either GPS (United States) or GLONASS (Russia) (12)

3. Set Data refresh frequency, ignition connection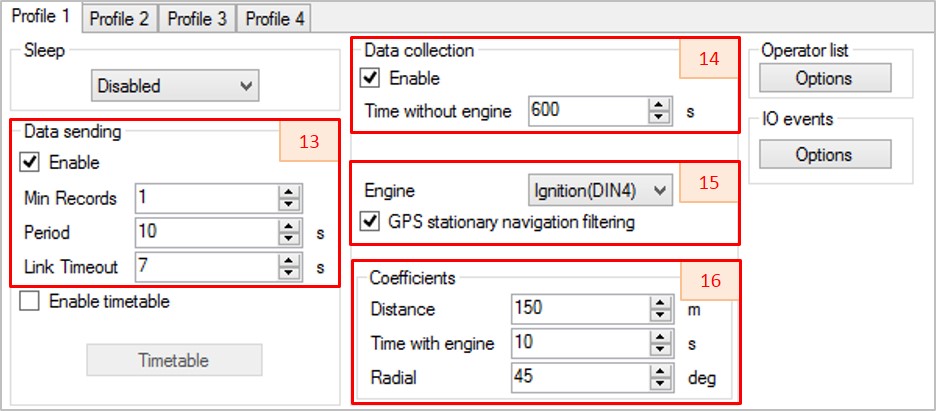 a. Enable check box to set data update to the AVL server (13)

b. Min. records to be set to 1

c. Period is the frequency in which the device is supposed to send real time location data to the AVL server; this could be set to 20 seconds to 60 seconds, depending on your specific requirement

d. Link timeout – 7 seconds (Default is 7 seconds, suggested not to change the default value)

e. Enable location data collection and choose a delay period in seconds. 600 s delay period means, while the engine is off, the data gets uploaded to the server every 10 minutes (14)

f. Choose Engine (Ignition DIN4) and connect the DIN 4 wire to the Ignition. Enable GPS stationary navigation filtering to weed out satellite jumps visible on the map often due to satellite signal intersection (15)

g. Choose location data collection frequency, every 150 m or 10 sec or at a 45 degree deviation whichever comes first. Choose 100m, 20 sec, 45 degree for optimal results, depends on your geographic area of course (16)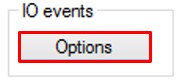 h. IO events: Here you can enable or disable IO parameters


1. You have 40 choices as far as parameters are concerned. Select those slots you want to activate.
2. Enable this check box otherwise slot will remain empty.
3. Parameter list. Choose the parameter you want to enable for the selected slot.
4. Used with hysteresis mode, a record is generated because of specified change in parameter value. E.g. parameter is Battery voltage. Level sets point of reference, in this case 12700 mV.
5. Delta is variation in value, e.g. 1000 mV. Record will be generated (because of parameter value change) when Power supply voltage drops to 13700 mV. You can select condition "on rising" or "on falling".
6. Value averaging time. Some parameter`s values change rapidly and do not correspond to any valuable information. Averaging values for some period of time gives usable value of parameter (e.g. fuel level often oscillates. Averaging gives you an approximate value that corresponds to real fuel level in the tank.)
7. Event on describes how parameter will be measured and sent:
– Monitoring: Parameter value is always monitored and sent with every record.

– Change: when value is changed record will be made regarding this change. However the parameter is monitored and sent to server with every record.

– Hysteresis: Record is generated because of specified change in parameter value. You can select condition "on rising" or "on falling".

8. Select Include data only on event to get parameter value only when condition (set in step 7) is met. In other cases parameter value will not be included in records.

9. If priority is set to high, record will be sent immediately, disregarding data sending settings. If it is low, device will wait for suitable conditions to establish a link to the server.

10. Upon the event of value change in some other parameter you can configure the GPS device to switch to another profile.

i. Standard I/O features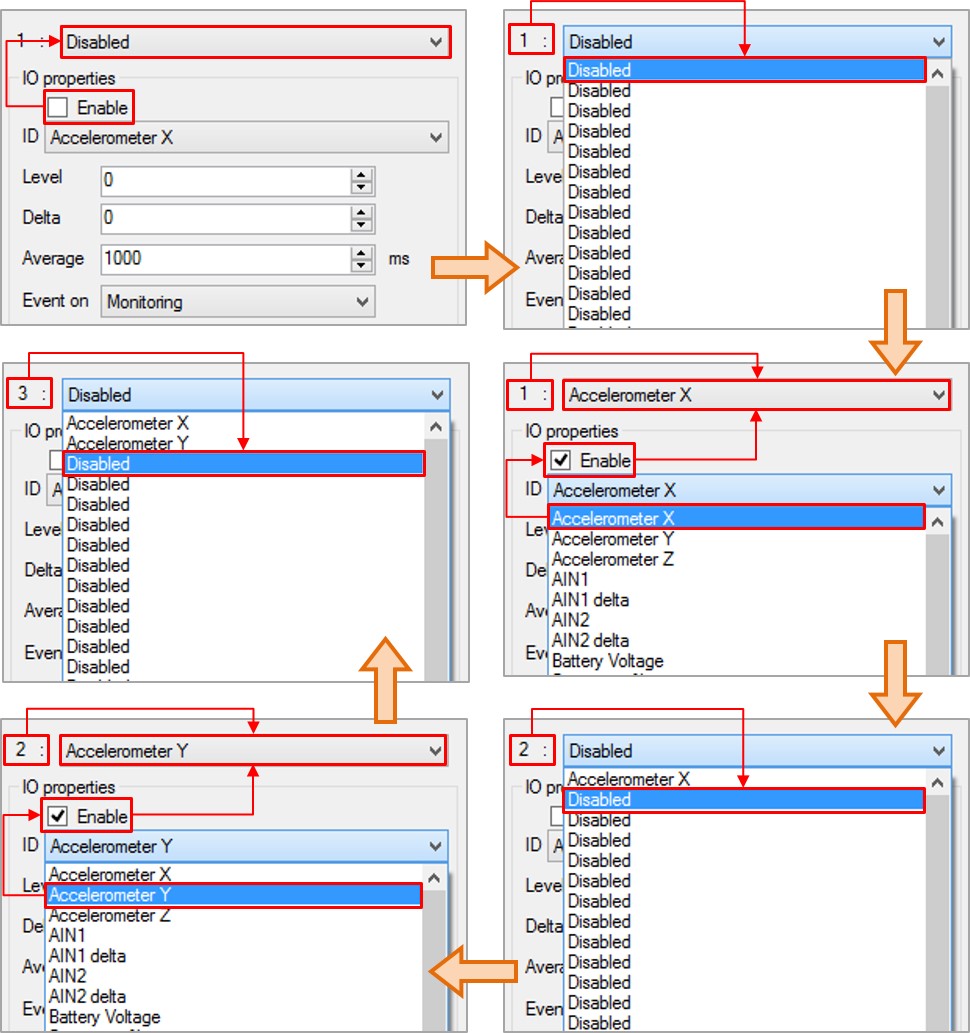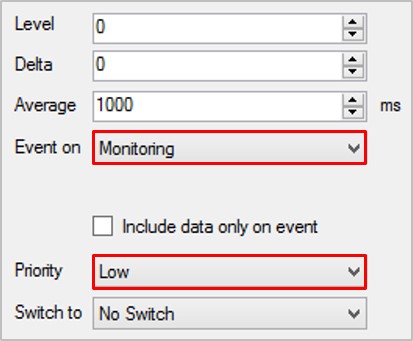 – Accelerometer X
– Accelerometer Y
– Accelerometer Z
– Battery Voltage
– Current profile
– DIN1
– DIN2
– DIN3
– GPS speed
– GSM operator
– GSM signal level
– Modem temperature
– Movement sensor
– PCB temperature
– Power supply voltage
– Virtual odometer
– Virtual odometer DIFF

If you are planning to use iButton for driver identification, then you may choose the following settings. The same setting applies to Ignition (DIN4) as well.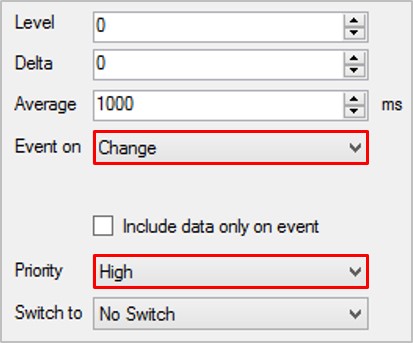 For Authorized Driving, choose IO digital output setting as follows



– DOUT1 – Blocking
– DOUT2 – Buzzer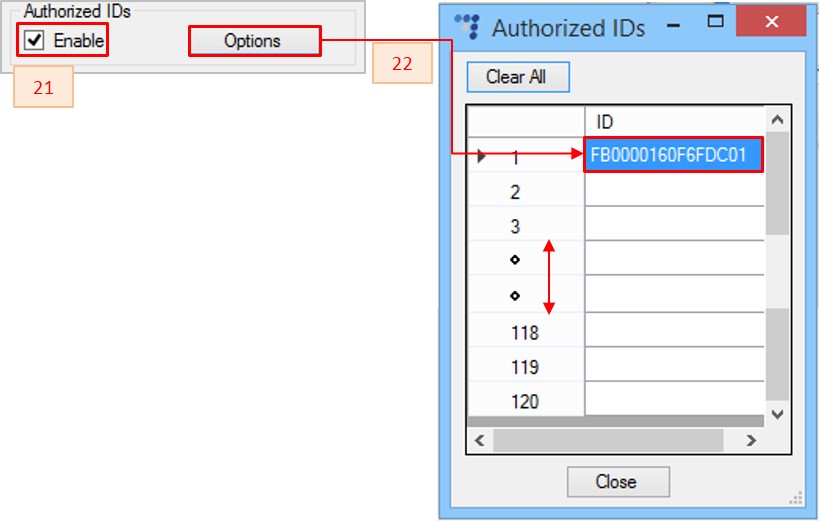 Enable Authorized IDs (21)
Click Options – Enter iButton ID (22)




Click on Driver registration to proceed with the Driver registration process with the following settings.

– Registration function – Blocking
– Output enable Buzzer & Blocking
– Registration source – iButton
– De-registration timeout – 5 seconds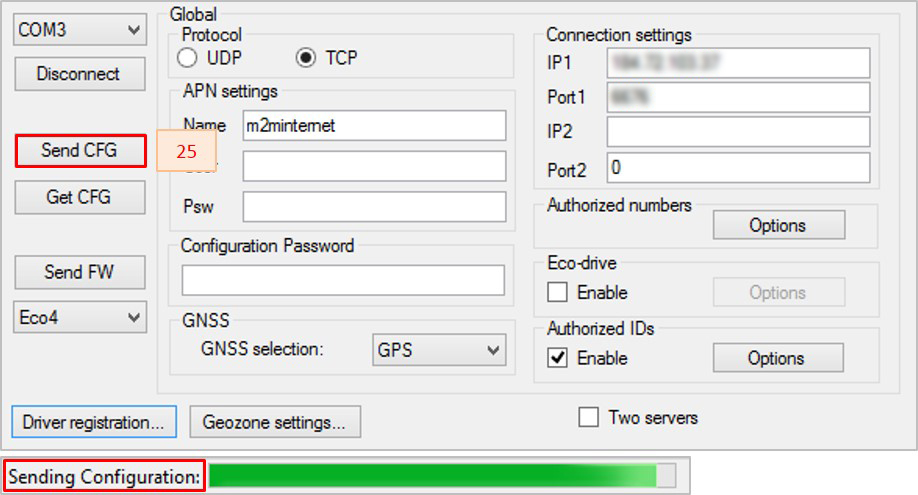 And finally click on Send CFG to send the new configuration to the device.





Read more on Ruptela Eco4+ GPS tracking device features & specifications.